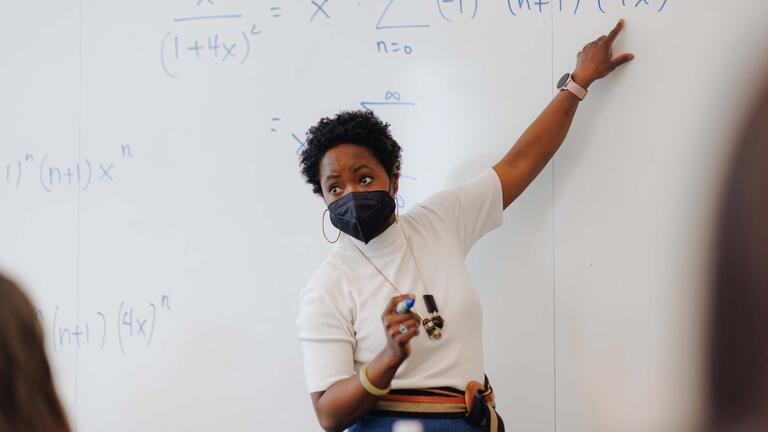 College of Arts and Sciences
Dean's Scholar Award
The Dean's Scholar Award acknowledges a faculty member's important contribution to their field. Depending on the discipline, this contribution may be a series of articles, a book, an art installation, performance, or other creative, intellectual achievement.
The project must have made a contribution of great value and impact. Additionally, this work must have been completed while the awardee has been a faculty member of the College of Arts and Sciences. Dean's Scholars receive a course release and a stipend in recognition of their accomplishment.
Past Recipients
2019-20
Elisabeth Jay Friedman (Politics/Latin American Studies) is recognized as the 2019-2020 Dean's Scholar for her work on the regional dynamics of Latin American gender-based and sexuality politics. She edited and co-wrote the Introduction to the collection Seeking Rights from the Left: Gender, Sexuality, and the Latin American Pink Tide (Duke University Press, 2019), also available in Spanish as Género, sexualidad e izquierdas latinoamericanas: el reclamo de derechos durante la marea rosa (CLACSO 2020). Latin American Politics and Society found that "The depth and broad scope of the book make it one of the most comprehensive and innovative publications on the impact of left-leaning governance in Latin America." Written by 14 scholars from across the Américas, it explores the impact of the "Pink Tide" governments on gender and sexuality-focused policy and movements using eight qualitative case studies. Friedman also wrote Interpreting the Internet: Feminist and Queer Counterpublics in Latin America (University of California Press, 2017), the first in-depth exploration of the intersection of Latin American feminist and queer movements and the internet. The Bulletin of Latin American Research described it as "timely and addresses the dearth of information on the effects of the internet on Latin American feminist activism...adding layers to an important regional discussion...an important historical reference point." Grounded in historical context and original field research between 2001 and 2012 in Argentina, Brazil, and Mexico, the book traces how Latin American feminist and queer activists appropriated global technology to serve their own ends, developing identities, constructing communities, and honing strategies for social change.
2018-19
Taymiya Zaman is a historian of Mughal India. In a series of scholarly articles, she has explored historical memory in India and Pakistan and the limits of historical reasoning when faced with ghosts, spirits, and the irrational. Using an affective and imaginative approach to loss and colonialism, she has proposed that historians decolonize the discipline by rejecting a linear approach to time and cultivating receptivity to aspects of the pre-colonial past that continue to animate Mughal spaces. She has been invited to present her work at research universities in the US and in Pakistan, and she has also presented her work at UNAM in Mexico City as a means of generating a dialogue between scholars of the global south on shared histories of colonialism. Her essay, "Cities, Time, and the Backward Glance" was chosen by the American Historical Review in 2018 as the inaugural essay for "History Unclassified," which is a new section in the journal that showcases innovative and cutting-edge approaches to the past.
2017-18
Kevin Chun is recognized as a 2017-2018 Dean's Scholar for his Asian American immigrant health disparities research program. Professor Chun's research specifically aims to improve Chinese American immigrants' management of type 2 diabetes and general health using community-based research methods in San Francisco Chinatown. Prof. Chun and his UCSF colleague, Professor Catherine Chesla, received over $2 million dollars in grant funding from the National Institutes of Health to develop and test the first cognitive-behavioral diabetes management intervention in the nation for Chinese Americans. Prof. Chun's research findings have led to new conceptual models and measures of acculturation effects on immigrant health, advancements in community-based research methods, and new culturally-appropriate clinical interventions and standards of diabetes care for Asian Americans. In recognition of his research contributions, Prof. Chun was appointed Fellow of the Asian American Psychological Association and was featured in the "Ethnicity and Health in America Series" by the American Psychological Association, Office of Ethnic Minority Affairs.

Dean Rader is recognized as a 2017-2018 Dean's Scholar for his poetry. Called "dynamic" by Booklist and "ingenious" by The San Francisco Chronicle, Rader's 2017 Self-Portrait as Wikipedia Entry is an innovative collection of poems that merge traditional and experimental forms. Thematically, Rader's book interrogates three main concepts — aesthetics, identity, and America — and the degree to which these triangulate on both the personal and national levels. Rader received the Poetry Society of America's George Bogin Award, given to poems "that use language in an original way to reflect the encounter of the ordinary and the extraordinary and to take a stand against oppression in its many forms." In their review of Self-Portrait as Wikipedia Entry, Publisher's Weekly writes, "few poets capture the contradictions of our national life with as much sensitivity or keenness."
2016-17
Aysha Hidayatullah is recognized as a 2016-2017 Dean's Scholar for her contribution to the field of Islamic Studies, gender studies, and Muslim feminist theologies. Dr. Hidayatullah's book, Feminist Edges of the Qur'an (Oxford University Press), is the first comprehensive introduction to the methods of feminist interpretation of the Qur'an as found in the works of U.S.-based Muslim feminist scholars since the 1990s, whose aim was to uncover a message of gender egalitarianism in the Qur'an obscured and distorted by sexist male interpreters. The book has two major objectives: to map out the emergence of this new field of Qur'anic exegesis by outlining the interpretive methods developed within it, and to offer a systematic critique of the field's apologetic tendencies and weaknesses in accounting for problematic verses of the Qur'an that cannot be redeemed or explained "away" by feminist methods. Therefore, in addition to providing an introduction to feminist interpretation of the Qur'an, the book also represents the first extensive challenge to the field from within it, deconstructing the field's foundational premises and confronting the possibility of the Qur'an's incommensurability with the demands of feminist justice.

Deneb Karentz is recognized as a 2016-2017 Dean's Scholar for her impact on polar science through her participation in collaborative research activities and mentoring of early career scientists. Since 1994, Dr. Karentz has been an instructor and currently is a co-director of the Antarctic Biology Training Program that has been conducted on site in Antarctica during ten field seasons. The Antarctic Biology Training Program has established the first formal graduate education program in Antarctica, fostered the expansion of the international polar community with "next generation" scientists, launched new research directions and opportunities for numerous early-career scientists, contributed new information on Antarctic biology through program research activities, and increased the incorporation of the global importance of Antarctic science in academic curricula at participant home institutions and in public outreach activities. From 1994 through 2016, Dr. Karentz's efforts have had a direct positive effect on 240 top young scientists from 132 institutions and 24 countries.

Annick Wibben is recognized as a 2016-2017 Dean's Scholar for her scholarly contributions to the field of Feminist Security Studies, Feminist International Relations, and Narrative Studies. For over a decade, Dr. Wibben has been at the forefront of the development of Feminist Security Studies, a new subfield of International Politics. Dr. Wibben's most important contribution to this field has been the publication of her scholarly monograph, Feminist Security Studies: A Narrative Approach (2011), which simultaneously lays out what is at stake in adopting a feminist perspective on security and develops a comprehensive framework for Feminist Security Studies. Dr. Wibben's most recent edited volume, Researching War: Feminist Methods, Ethics & Politics (2016), significantly moves the Feminist Security Studies conversation forward by providing a unique overview of feminist contributions to the study of war through twelve international case studies, with a distinctive focus on feminist research methodologies.
2015-16
Jennifer Dever is recognized for her critical research on amphibian conservation genetics. In her most recent work, Dr. Dever has identified eight new species in the genus and rediscovered a species not observed for over 125 years. Through use of morphological and DNA data, she compared rare specimens to newly collected frogs from Myanmar. In her longitudinal collaboration with the CAS Myanmar project, Dr. Dever and her lab students' painstaking data collection process uncovered errors in previous species' classification. The work resulted in the recognition of 4 additional Amolops species, and demonstrated a much greater diversity among Amolops than previously thought. For her work, Dr. Dever received the "Best Paper" award at the American Society of Ichthyologists and Herpetologists Annual Conference. Dr. Dever's work in identifying distinct species and determining evolutionary relationships makes a significant contribution to conservation efforts and biodiversity research.

Over the past 15 years, Dr. Richman's research has focused on the intersection of sexuality, family and law, with an emphasis on custody/adoption rights and same-sex marriage. Dr. Richman's book, License to Wed, (2014, New York University Press) is the first comprehensive examination of the meaning of marriage for same sex couples in California and Massachusetts. The book incorporates qualitative and quantitative analyses of data taken from over 1000 survey responses and 100 in depth interviews. In 2005, she was awarded a NSF grant ($110,000) to support her research. Upon publication, the book received the Edwin Sutherland Award for Best Book from the Law and Society Division of the Society for the Study of Social Problems. In addition to the praise received by academicians in law and sociology, Dr. Richman has been interviewed by many leading media outlets including U.S. New and World Report, San Francisco Examiner, San Jose Mercury News, and KRON 4 News.

Katrina Olds is a scholar of the cultural, religious, and intellectual history of Spain in the time of the Counter-Reformation and the Inquisition (the sixteenth and seventeenth centuries). Dr. Olds' book, Forging the Past: Invented Histories in Counter-Reformation Spain (Yale University Press) examines the so-called "false chronicles" fabricated by the Jesuit priest, Jeronimo Roman de la Higuera. Fr. Higuera claimed to have discovered four lost documents of Spanish history in a religious library in 1595. Despite their origins, these documents have had an enormous and continuing impact on Spanish culture, religion, and history. Through a historical lens, Dr. Olds' work is the first of its kind to situate the fabricated texts in the larger context of local religion and power. Her book has had an immediate impact on her field and beyond. Her research has attracted the notice of scholars in art history, comparative literature, history, musicology, and Spanish literature based in North America and beyond, including France, Latin America, Spain, and the United Kingdom.
2014-15
Lois Lorentzen is recognized as a 2014 Dean's Scholar for her cutting edge research on migrants to the United States and the complex role religion plays in their lives. In a three volume series on undocumented migration, Professor Lorentzen examines the reasons for why migrants rely on religion and how their religious practices are adapted to their new country. As one of the only scholars examining religion in the lives of migrants, Professor Lorentzen's research provides a powerful voice to marginalized and vulnerable populations.

2014 Dean's Scholar recipient Giovanni Meloni is recognized for his research on the identification and characterization of reactive atmospheric and combustion chemical species. Utilizing state-of-the-art techniques in computational research, Professor Meloni has discovered several never detected molecular species including peroxy radicals and the simplest criegge intermediate. Additionally, Professor Meloni has investigated biofuels and their applications in reducing dependence on foreign oil sources. Currently, Professor Meloni is investigating a unique superalkali, and has published his findings in the Journal of Chemical Physics.

The College recognizes Susan Steinberg for her short fiction works. As an experimental writer exploring the nexus of gender, art and performance, Professor Steinberg is a nationally recognized and awarded author. Professor Steinberg's work is influenced both by her own background in visual arts and creative writing and her experiences speaking with artists. Currently, Professor Steinberg is completing a fourth collection of short stories, which will continue to explore the intersection of visual arts and creative writing.

Stephen Zunes is recognized by the college for his 2011 publication Western Sahara: War, Nationalism and Conflict Irresolution which represents a culmination of fifteen years of scholarly work. In the book, Professor Zunes incorporates previously classified U.S. Government documents, interviews with government officials and field research to explain the Western Sahara conflict between Morocco and Algeria. Professor Zunes' research has received accolades from a variety of prominent scholars and policy makers including the late US Senator Edward Kennedy.
2013-14
Juliet Spencer is being honored for her research on HCMV, human cytomegalovirus, which can cause serious illnesses for those with compromised immune systems. Juliet's research investigates HCMV's interaction with the human immune system, with a particular focus on how HCMV affects communication networks in the immune system. This research has assisted Juliet in securing large grants from the National Institutes of Health, and speaking invitations at major conferences like the World Congress of Virology.

2013 Dean's Scholar receipt Jacqueline Taylor is recognized for her research on the legacy of Hume and the enlightenment period. Prof Taylor examines what 18th century thinkers called the science of human nature, which calls on scholars to develop a collaborative approach across different academic disciplines. In 2006, she received a fellowship from the National Foundation for the Humanities to work on the early stages of her book, Reflecting Subjects: Passion, Sympathy and Society in Hume's Philosophy.

The College recognizes Dr. Wydick for his innovative research on the effectiveness of anti-poverty programs in developing countries. In a recent research project, he found that alumni of child sponsorship programs were more likely to complete secondary school and hold white-collar jobs in adulthood than their peers who had not participated in sponsorship programs. This project received considerable attention, and was published in the prestigious Journal of Political Economy.
2012-13
The college recognizes Thomas Cavanaugh for his work on the ethics of double-effect. In his book, "Double-Effect Reasoning: Doing Good and Avoiding Evil," (Oxford: Clarendon Press) he presents the first detailed history of double-effect while articulating and defending new criteria for assessing hard moral cases found, for example, in medical, legal and military fora. While prompting consideration by prominent philosophers, his book has garnered praise and numerous reviews in journals such as Mind and The Philosophical Quarterly.

Robert Elias' book, The Empire Strikes Out: How Baseball Sold U.S. Foreign Policy and Promoted the American Way Abroad, has earned him a 2012 Dean's Scholar award. The Empire Strikes Out examines the longstanding and reciprocal relationship between baseball, and U.S. foreign and military policies. The book has received critical acclaim and has caught the eye of Far West Films, which is hoping to turn it into a documentary. Elias is working on his ninth book, on the civil rights movement, At What Price Equality.

2012 Dean's Scholar recipient, Aparna Venkatesan, has been chosen for the award in large part for her contributions in theoretical cosmology. Her work is currently being used by others to help detect the first sources of light in the universe and to constrain the physical conditions in primordial galaxies. In 2010, Dr. Venkatesan was awarded a Single Investigator Cottrell College Science Award by the private foundation Research Corporation for Science Advancement, recently extended until 2013.
2011-12
As a Dean's Scholar, Professor Jacquemet will share at USF and at other campuses across the country and internationally the findings of his current book project, Transidioma: Language and Power in the Age of Globalization, to be published in Spring 2012. His book is the culmination of more than five years of ethnographic fieldwork supporting his concept of transidioma. Through this concept, Professor Jacquemet assesses the communicative mutations derived from the intersection between mobile people (refugees, migrants, aid workers, etc.) and electronic media, and the resulting social hierarchies and power asymmetries. Focusing on the link between language, globalization, and social justice, his research on refugees and migrants in Mediterranean Europe has already significantly contributed to the fields of refugee studies, language contact, and human rights. Professor Jacquemet's research findings have also been widely disseminated through seminars, published articles, plenary lectures in the United States and Europe, and papers presented at national and international conferences. His work has been recognized by such arbiters of academic excellence as Babylon, Tilburg University's center for the study of language and globalization and by the Max Planck Research Group on Language and Superdiversity. Holding a PhD in Anthropology from the University of California, Berkeley, Professor Jacquemet came to USF as an Assistant Professor in 2002 and was awarded USF's NEH Chair in 2010-11.

With this Dean's Scholar Award, the College recognizes Professor Powell as one of the most important, innovative and influential contemporary poets, widely renowned for what critics call his "AIDS trilogy," Tea (1998), Lunch (2002), and Cocktails (2004), followed by his fourth book, Chronic (2009), a collection of interrelated poems addressing how one endures love's arc in the midst of chronic illness. Other threats to the wider world, including war and climate change, engage the reader in a dialogue about what it means to live and love at this fraught juncture in history.

Chronic was a Finalist for the National Book Critics Circle and the Publishing Triangle Awards. It also received the Northern California Book Award, the Northern California Book Sellers' Award, and the California Book Award, and it was named a notable Book of the Year by the Los Angeles Times, San Francisco Chronicle, Kansas City Star and Publisher's Weekly. Professor Powell has received wide critical acclaim for his work and many honors, including the Kingsley Tufts Prize from Claremont College and a fellowship from the Guggenheim Foundation.

Professor Powell holds an M.F.A. in Poetry from the Iowa Writers' Workshop, University of Iowa. He joined USF as a Visiting Writer in Spring 2000 and then as Assistant Professor in 2004.

Professor Manuel Vargas has been selected as a Dean's Scholar because of his project on moral responsibility, which has received extensive national and international recognition. His project concerns the network of practices, attitudes, and beliefs bound up with moralized blaming. His work defends the appropriateness of our holding one another responsible for our actions, against the growing body of skepticism from philosophical and experimental quarters.

Professor Vargas's project has culminated in his manuscript, Building Better Beings: A Theory of Moral Responsibility, which is under contract with Oxford, the premier publisher of English‑language Philosophy. His work has produced more than twenty publications, including one jointly authored book and Building Better Beings, and he has presented his work in the United States and internationally.

He has been recognized by the Stanford Center for Ethics, the National Endowment for the Humanities, and Harvard's Radcliffe Institute for Advanced Study. His scholarship has had a significant impact in his field, including being featured in several sessions at the upcoming 2012 Pacific Division of American Philosophical Association and cited in various professional reference books such as the Stanford Encyclopedia of Philosophy.

Professor Vargas holds a Joint-PhD in Philosophy and Humanities from Stanford University and became a member of USF's faculty in 2002.