Engaged Learning
Why I Love My Major: Finance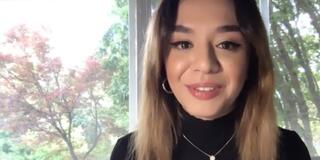 Best advice from Tala Farhatnia '20? "Really put yourself out there."
What do you like most about studying finance?
The finance courses at USF gave me an international point of view regarding finance, which was extremely important to me. I was born and raised in Tehran, Iran. I grew up there until I was 18 and then I applied to USF and I got in. Coming from the other side of the world and attending USF, that has really given me an international outlook.
How has the transition from Tehran to San Francisco been?
It's been great. I love San Francisco. I applied to other universities but I'm really, really happy that I got into USF. I love downtown. I wouldn't want to be anywhere else. Currently, I have a summer financial planning and analysis internship at Bank of the West BNP Paribas for their organization profitability department.
What is the future for you?
I'm going to be an investment banking analyst intern in the fall [she graduates in December] at Vista Point Advisors, which is a tech mergers and acquisitions investment bank in San Francisco. I'm super excited about that.
What advice would you give to other students?
Go to Career Services and to as many job fairs as you possibly can. Really put yourself out there and just keep interviewing as much as possible to build your confidence and be able to ace your interviews. Also, keep networking. Just work as hard as you can and be persistent.
Don't get discouraged if you are rejected. Just keep trying, because I think that's what happens to a lot of students — and for a short period of time, that's what was happening to me. Oh, and definitely take Professor Frank Ohara's classes! It will be challenging, but I can promise you they will be valuable.