Equipped to Lead and Succeed
NBA Star Bill Cartwright Named USF Ambassador
Former Don wants to raise the university's name recognition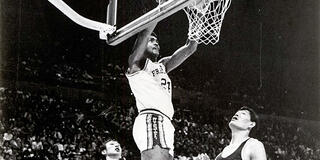 Five-time NBA champion Bill Cartwright '79, MSOD '98 is returning to his alma mater to take on a new role at USF, one in which he'll focus on cultivating connections with the San Francisco community and alumni, help to raise funds, and mentor underrepresented students.
Cartwright, who earned a bachelor's degree in sociology and a master's degree in organizational development, will be USF's director of university initiatives. He starts in April. 
The 7-foot-1 center completed an NBA championship three-peat as part of the Chicago Bulls dynasty in the early 1990s. He later won two more championships as an assistant Bulls coach under Phil Jackson. He was Bulls head coach for the 2001–02 season. 
Race to raise USF's visibility
At USF, Cartwright led the Dons to three NCAA tournaments. The West Coast Conference named him the men's Player of the Year all three times, a record that he still holds today. He earned first team All-American honors, his junior and senior years. 
"I want to help bring USF the visibility I think it deserves," Cartwright said of the appointment. "I don't think enough people know about USF, and I want it to be as recognized as Stanford and UC Berkeley."
For Cartwright, USF was where he grew and developed in ways that influence who he is today. "It is a great place of learning, and I'm grateful for the opportunity to come back," he said.
One of the most appealing parts of the job is the opportunity to work with and mentor the next generation of USF students, Cartwright said. 
Brilliant athlete, brilliant businessman
"Bill Cartwright is one of USF's outstanding alumni, and I am honored to welcome him home to the Hilltop," said USF President Paul J. Fitzgerald, S.J. "He has had a brilliant career as an athlete, a coach, a business person, and an engaged citizen, and he will be a great mentor to our current students as well."
Fr. Fitzgerald announced Cartwright's appointment March 5 in Las Vegas, where the basketball superstar was inducted into the WCC Hall of Honor and where the Dons men's and women's basketball teams competed in the WCC Championships, hoping for berths in the NCAA Tournament.
Know someone with a powerful USF story? Let us know! usfnews@usfca.edu Twitter @usfcanews