Engaged Learning
Meet Your Professor: Keith Hunter
Part of a summer series on getting to know teachers at USF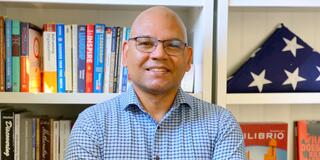 The associate professor in the School of Management talks about students' passion, Jesuit vibes, and Cheetos.
What is your teaching style?
For me, being a successful teacher means helping people prepare for jobs of the future as well as for jobs that exist right now. The world changes much more quickly than many people imagine, even without tremendous disruptions like COVID-19. Therefore, I push every student to cultivate a process for continuous growth and adaptation, and to prioritize getting very good at doing what they love. I believe this mindset best helps them take the reins of their own careers sooner and more effectively. It's great to search for your dream job, but it's also very empowering to know how to bring your passion to the opportunities you have.
Having completed my own bachelor's degree after serving six years in the U.S. Navy and graduating from community college, I understand the diversity of our students' experiences. Some of the most important skills I rely on as a professor are meeting people where they are, relating to their distinctive needs and values, and partnering with them in their pursuit of their own developmental goals.
Favorite place in San Francisco?
I cherish peace and tranquility more than anything else. I don't have a single place that I always go for that, but there are countless such locations in the Bay Area. Give me a wooded area or a rocky beach anytime — and a warm jacket.
Why USF?
Faculty at USF are valued for not only for producing important research to extend knowledge in their fields but also for contributing to purpose-driven communities of learning and positive action. I was excited to actually feel this kind of mission vibe during every moment of my initial campus visit, having never been involved with a Jesuit institution in the past. I need this in order to find my work truly fulfilling.
Comfort food?
In order of importance, Cheetos, devil's food cake, banana cream pie, and lasagna.
What are the "aha" moments for management majors?
Naturally, this all depends on each student's lived experiences and how they show up. Many of my students have been surprised and empowered when they learn why people are so resistant to change, how emotions affect our behavior, or what makes leadership different from management.
Favorite movie?
I love movies too much to choose a favorite. However, Godzilla. My office has many Godzillas on the shelves that I will proudly show anyone.
Connect with Professor Hunter at kohunter@usfca.edu