Giving
Alumni Gift Secures $1 Million Match for Scholarships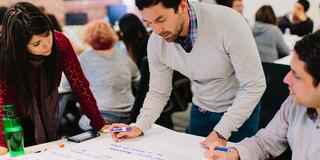 A bequest gift from a 1962 graduate of the university has helped USF secure a $1 million match gift for scholarships that will support students in the School of Management.
USF received the $1,165,355 bequest gift from Frank D. Matousek to create an endowed scholarship to support future USF students pursuing degrees in the School of Management. His legacy support means USF will receive an additional $1 million match from another donor.
The bequest gift from Mr. Matousek, who passed away in 2015, helped the university complete a funding goal for the School of Management and its students.
"We are so grateful to Frank Matousek and the legacy of support he created for students in the School of Management," said Dean Elizabeth Davis.
"His commitment to his alma mater meant that the university could raise an additional $1 million for scholarships for students in the School of Management," she said. "This is an important gift to the school, and we know we can support more students because of Mr. Matousek's support."
Fondness for USF
Mr. Matousek was born in 1925 in the Czech Republic (formerly Czechoslovakia) and was the son of a grocer who emigrated to Australia and then to the United States.
He graduated from USF in 1962 with a degree in Accounting from the USF School of Management. He had a successful 25-year career as an accountant with the IRS. In his later years, he lived in Florida and always had a great fondness for USF.
Mr. Matousek credited his career success to his USF education. 
The match gift, meanwhile, has its roots more than three decades ago with an alumni couple, April and Phil Cassou, who offered to pay tuition for a young student who was admitted to the MBA program but had no money to pay for it. As graduates of USF themselves, the Cassous knew the importance of education, and they wanted to give a promising student a chance.
The generosity of the Cassous continued, and they established a scholarship for MBA students at USF, the Cassou-Shan Endowed Scholarship. It was endowed in 1992.
In 2015, an anonymous donor created the match challenge for the Cassou-Shan Scholarship, pledging a $1 million challenge. To help build the scholarship, the donor offered to pay $1 for every $2 contributed by other donors. As a result of the challenge, USF ultimately raised more than $3 million for endowed scholarships, with $1 million coming from the bequest of Mr. Matousek and $1 million coming from a group of gifts from other donors.
Continuing to Transform Lives
The Cassou-Shan endowed scholarship is awarded annually to a top student with demonstrated need to complete an MBA. An annual scholarship, it recognizes a student who has demonstrated unique promise, exceptional intelligence, and outstanding personal discipline. Dozens of students have benefitted from the scholarship over the years.
"The generosity of our donors enables us to support the development, growth, and competitive success of School of Management students," said Dean Davis. "The University of San Francisco is creating a lasting foundation for the successful education of 21st-century business leaders."
Learn more about supporting the School of Management
This gift was made in support of Changing the World from Here: Campaign for the University of San Francisco.