Engaged Learning
Making the Best of Working From Home
USF professor helps employees adjust to life away from the office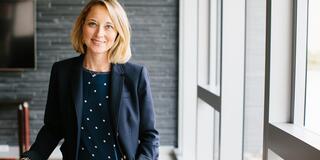 Courtney Masterson — wife, mother of a 5-year-old, and assistant professor in the School of Management — studies the influence of work policies on employee well-being. Here, she shares insight on working from home.
In an op-ed piece in the San Francisco Chronicle, you said "professional and personal identities, responsibilities, and physical spaces are integrating — whether it is your preference or not." Could you elaborate?
We tend to think of work and family in opposition to each other. Now with many professionals working from home, these spheres are blending more. But there can be a positive spillover of emotions. By that I mean if something good happens with your child, that happiness could cross over into your motivation for work.
How can we get better at integrating our work and home selves?
The most important rule is being patient. I always say "be patient with yourself and with those around you." That patience will help you not get frustrated if your child walks into your video conference, and also helps us empathize with peers. Hearing coworkers or bosses be vulnerable allows people to support one another during times of struggle.
Being vulnerable is scary. How can we practice authenticity in the workplace?
We have to learn an authentic tone from managers. For example, my department chair begins meetings by inviting us to share what's going on in our lives and how we're feeling. Self-disclosure helps us see that our peers play other roles too. There's a human component in relating as individuals who are facing similar challenges.
What can we do to thrive in confinement?
For those with children, create a shared mindset. Instead of caregiving falling to one person, a shared structure allows my husband and me to take care of ourselves and focus on work equally. There has also been research about the positive effects of goal-setting. I encourage my students to set daily goals for themselves. It can be as small as going outside for ten minutes. Goals give us a sense of purpose and accomplishment.
Anything else?
Take things day by day. Who knows what the next month will look like? The more we can accept not knowing the future, the more we're able to appreciate the present.