Alumni
London Breed Steps Up, Again
She's sworn in to second term as San Francisco mayor as USF President Paul J. Fitzgerald, S.J. gives invocation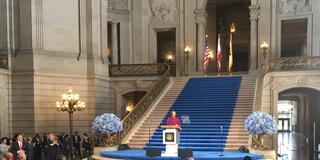 Mayor London Breed shared her vision for the next four years at her inauguration on Jan. 8 in the City Hall rotunda, saying she will address the "twin troubles" of homelessness and affordable housing.
The inauguration took place before a crowd of hundreds of the mayor's supporters and city residents who cheered when Breed, the city's first female African American mayor, arrived.
USF President Paul J. Fitzgerald, S.J. offered a blessing for Breed, MPA '13, "on behalf of the professors who loved her, the students who loved her, and all of us at USF who love her and wish her great success." Mayor Breed, he said, leads with integrity and excellence and stands for social justice, reflecting the mission of USF and the master of public administration program.
The mayor was sworn in by San Francisco Superior Court Judge Teri L. Jackson, an adjunct professor at the USF School of Law, who will become the first African American justice on the California First District Court of Appeals this month.
Mayor Breed was raised by her grandmother in Plaza East public housing a mile from USF. Her grandmother, Comelia Brown, was the daughter of sharecroppers and moved to San Francisco believing in a better future, Breed said.
"She came to a city of hope, to a city where a young black girl can go from public housing to the mayor's office," Breed said.
Breed addressed the issue of homelessness in San Francisco. "Homelessness isn't new and it isn't easy," she said.
The mayor pledged a thousand new shelter beds will be available by the end of this year, and she pointed out that a new navigation center to help homeless people get the services they need is now open near the Bay Bridge. The city has also opened a safe parking lot for people who live in their cars, she said.
But the city can and will do more, Breed said. She supports the construction of at least 50,000 new homes over the next decade, with 17,000 of them providing affordable housing.
"This is an incredible city," Breed said. "I want it to be lively. I want it to be diverse. I want it to be safe. San Francisco can be that city of hope that a sharecropper's daughter dreamed it could be."