Alumni
Lead With Your Heart
5 Questions with Luis Aroche MPA '15, Latinx Alumni Society Board Member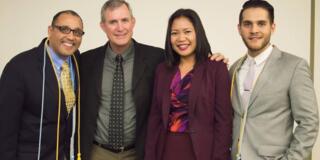 Meet Luis Aroche MPA '15, one of the university's newest Latinx Alumni Society board members. Born and raised in San Francisco's Mission District, Aroche has committed his life's work to help local San Francisco communities in need and being an advocate for change and social justice.
After graduating from the Masters of Public Administration program, Aroche has gone on to change the world as a project manager for Heal San Francisco, an initiative under the Department of Children, Youth, and Families that's dedicated to addressing the mental health needs of those who have been deeply impacted by the pandemic. 
What does "Changing the World From Here" mean to you? 
When I graduated from the Public Administration program, one thing they talked about was that we change the world from where it needs to be changed the most. We go to the source of the issue and we try to get closer to the community and closer to the problem to make a difference. We Change the World From Here, right where we're standing, to help those who are the most affected. 
Looking back at your time at USF and the years spent after graduation, what is the impact that USF has created in your life thus far? 
It's given me the tools to be a strong public steward and to take on big and meaningful projects in the city of San Francisco. For example, at the peak of the pandemic, a lot of our frontline workers, first responders, nurses, and social workers were dealing with high levels of emotional stress and mental health issues. Mayor London Breed MPA '13 requested that we activate a collective impact strategy that would bring all of our health care professionals under one coordinated network and I actually lead that network, which is known as Heal San Francisco, or Heal SF. With the help of Kaiser Permanente, UCSF, and many community clinics, all of these health care professionals came together under this initiative to address the mental health of those in need. 
We've heard of this saying: Helpers need help. Those words couldn't be more clear during the pandemic. It took a substantial toll on our teachers, frontline health responders, and essential workers. The university gave me the tools to lead this initiative and help many helpers deal with their mental health issues. 
What inspired you to join USF's Latinx Alumni Society? 
I believe in the university's Jesuit values. I believe in our mission to change the world for a better future. I believe in the values of creating an environment that is welcoming to all, and I felt that joining the Latinx Alumni Society could further my passion within that community and allow me to share my university experience with others. 
Is there someone, such as a professor, peer, coach, or advisor at USF, that had a substantial impact on your college experience? How? 
Yes, Professor Richard Callahan. He was the dean for the Masters of Public Administration program and my professor. In my very first class, I remember him sharing that if we decided to take this course it was because we believed in values, we believed in morals, and we believed in integrity. He said that because we were in this program we were stewards of change.
That had a profound impact on me. Beyond the class being academically challenging, he told us we needed to check our own implicit biases, morals, and values because that was what this program was going to require of us — to constantly check ourselves and check how our actions impacted others. Because of that, I graduated from the program with honors and I've gone on to continue my work. 
What is a piece of advice you can give to current Dons?
Study with your heart and really love what you do. Be passionate about it. It might not always be easy but lead with your heart. 
Connect with other alumni like Aroche and join the Latinx Alumni Society today.  To support students who are pursuing impactful careers like Aroche, consider making a gift to the School of Management and Changing the World From Here: Campaign for the University of San Francisco.