San Francisco Advantage
The Golden Rule as a Corporate Strategy
Charles Schwab calls for ethics in business education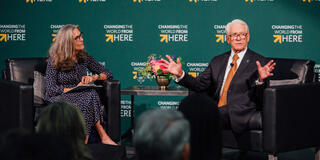 Charles Schwab, who is credited with democratizing investing in the 1970s, says his success came with a healthy dose of humility.
That's because he was in his mid-40s before he realized he had struggled with dyslexia his entire life. The realization came when his son was diagnosed with the learning disability.
"My humility came from my uncertainty about my slow reading," said Schwab, speaking to an audience of 300 alumni, students, trustees, and others in the McLaren Center at the Silk Speaker Series at the University of San Francisco Oct. 29.
"It created a sense that you're really not as great as you think you are."
Schwab, the founder and chairman of the Charles Schwab Corporation, brought that humility to the workplace, something he advised USF students to do.
"At the most fundamental level, make sure you work for a purposeful company, that it makes a contribution to society," Schwab said. "And show humility, show a willingness to own your mistakes. Treat people the way you want to be treated."
Today Schwab says he is most concerned about fake news and online scams and how they compromise legitimate businesses. USF, he said, provides a value in today's business world by teaching ethics.
"Here, you have the values we all aspire to — the ethics, the confidence, the trust we want in our organizations," he said. "All of those things are based on the human quest to do the best we can do in our personal lives. It takes work. It takes consistency. If USF instills this in its students and they graduate from here, they are going to change the world."
Do Unto Others
Schwab is credited with opening up investing for all, not just Wall Street, by lowering the fees associated with investing in the stock market.
He has published a memoir, Invested, and he talked at USF about his life. After he realized he was struggling with dyslexia, for example, he went on to create centers for families with children with learning issues, making him "a hero in the disability community," said moderator Kimberly Rae Connor, an ethics professor in the School of Management.
Connor introduced questions from students and parents, including one from Roberta Witte '70. Witte explained that she relied on a dyslexia resource center many years ago in the Bay Area to help her young son.
"He recently graduated with a USF master's degree in educational technology," Witte said. "Thanks for all you do to help with people with learning differences thrive."
Question the Quo
Schwab is the 11th speaker to participate in the Silk Speaker Series. He joins other thought leaders in global affairs, the economy, and business who have shared their ideas with the USF community.
A lifelong San Franciscan, Schwab started his firm here in 1973 with four employees. Today, the company oversees nearly $4 trillion in accounts. Schwab says he still hopes, however, that his firm hasn't become the status quo, after decades spent fighting the status quo.