San Francisco Advantage
Federal Reserve President Takes on Tough Times
She follows a care-of-the-whole-person approach to economic and leadership challenges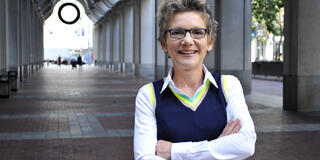 A sign at the entrance to the Federal Reserve Bank on Market Street in San Francisco reads: "Our work serves every American and countless global citizens." Mary C. Daly says she is proud of that message.
Daly, the president and CEO of the San Francisco Fed, joined economics Professor Suparna Chakraborty for a discussion Feb. 16 as the latest speaker in the Silk Speaker Series at the University of San Francisco. More than 1,800 people watched the talk, broadcast on YouTube and Facebook because of the pandemic.
Chakraborty asked Daly about the biggest challenge she has faced at the Federal Reserve.
"I took over the Fed during a difficult time, particularly because of the pandemic," Daly said.
COVID-19 has led to the unemployment of more than 10 million Americans, creating a wave of economic problems. Daly said the Fed's primary role has been to make sure small businesses get Paycheck Protection Program (PPP) loans.
At the same time, there are more than 1,800 people working at the Federal Reserve Bank in San Francisco, Daly said, and they "all needed to move home and work for the American people at a time when they were experiencing all the concerns of COVID, trying to educate their children, and take care of their families."
Although it was difficult, Daly said, the Fed employees delivered PPP to small businesses in the nine western states they serve.
"We did our work for the American people, and we continued to take care of our people at the Fed," she said. "Life shouldn't be about tradeoffs between work and family. It should be an integration of work and family."
Daly, who grew up in Ballwin, Missouri, said her ideas about leadership are informed by her upbringing.
She dropped out of high school to work at a restaurant. Later, she got her GED and went on to college at the University of Missouri-Kansas City. She holds a master's degree from the University of Illinois Urbana-Champaign and a PhD from Syracuse University.
I grew up in an environment where I saw people suffer,"
she said. "I want to leave the world a better place."