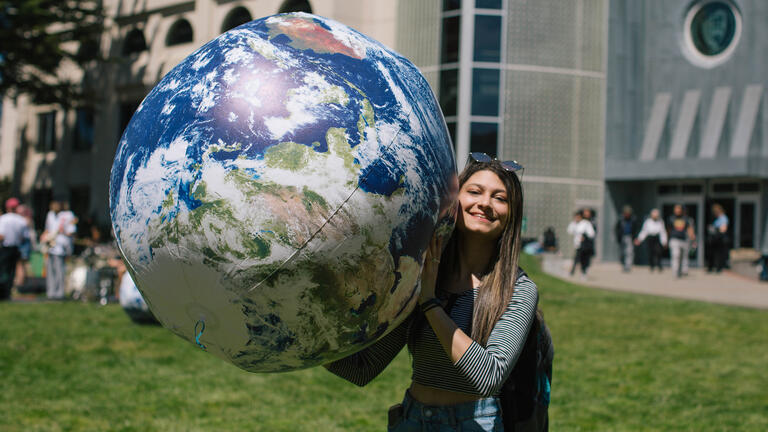 Energy Systems Management, MS/MBA
Masagung Graduate School of Management
Build your skills in business and sustainable energy management. Earn two advanced degrees. Save time and the cost of 14 units. Graduate with both degrees in as few as 36 months.
The MS in Energy Systems Management/Master of Business Administration program is awarded by the USF College of Arts and Sciences and the USF School of Management.
Separate admission to each school is required. Students may begin either program first or begin the programs concurrently. If applying to both programs simultaneously, please address your interest in pursuing the dual degree in your statement of purpose.
If applying to either program after already pursuing a degree in the other, a minimum GPA of 3.0 is required. Please refer to MBA Admission or ESM Admissions for complete application requirements.
What Is the Format?
Energy Systems Management/MBA students complete the MBA portion of the program in either a Full-Time MBA format or Part-Time MBA format. Six units of MBA electives are waived for students in either MBA program. Eight units of Energy Systems Management electives are waived for students in this dual degree program. Note that international students are only eligible to attend the Full-Time MBA program.
Students in the Energy Systems Management/ Full-Time MBA will take one of the Career Accelerator Platforms (CAP) during the first year of MBA coursework. University policy requires that all dual degree students pay the tuition rate of the program they started first throughout their dual degree coursework.
What Is the Cost for the Dual Degree Program?
Students save a total of 14 units with the dual degree program. The dual degree ESM/Full-Time MBA requires a total of 52+26 = 78 Units. The dual degree ESM/Part-Time MBA requires a total of 48+26 = 74 Units. Tuition is per unit not per semester. Please find the current information on costs per unit for the MBA and Energy Systems Management programs.
Will I Be Able to Request CPT or OPT? Is the Dual Degree Program a Stem Degree?
The Energy Systems Management/MBA dual degree qualifies as a STEM degree. Eligible international students may apply for CPT (Curricular Practical Training) during the academic year for their practicum assignment. International graduates typically apply for OPT (Optional Practical Training) after they graduate. Please direct all further questions regarding CPT, OPT, or STEM to the School of Management Admission Office or the College of Arts and Sciences International Students Office.
If I Am Already in One Program and Wish to Apply for the Other, Do I Need New Application Materials?
If you are in the first year of one program and wish to apply for the other, you will need a new statement of purpose, a letter of recommendation from one of your current faculty members, and a minimum GPA of 3.0. The rest of your application materials can be moved to your new application and you do not need to pay the application fee again. Please speak to the director of the ESM program, Professor Maggie Winslow mwinslow@usfca.edu, or of the MBA Program Director, Frank Fletcher ffletcher@usfca.edu, if you have questions about the program.
Program Overview
School of Management Graduate Admission
101 Howard Street, Suite 500
San Francisco, CA 94105
Hours
Monday–Friday
9 a.m–5 p.m.