Passion for Justice
USF Student's Experiences Fuel Her Fight for Equity and Diversity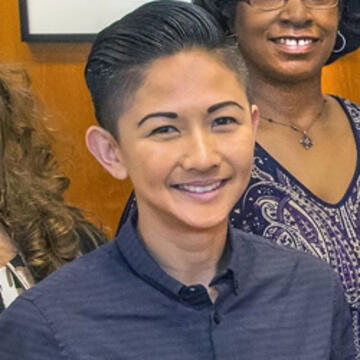 For Lady Idos, a first year student in the Master of Public Administration (MPA) program at the University of San Francisco School of Management, a culmination of experiences ignited her passion to fight for equity and diversity.
At the age of seven, Lady Idos and her family moved to the United States from the Philippines. The move sparked within Lady the desire to quickly acclimate herself to a brand new culture. "At first, I wanted to be fully American, and I completely ignored any other cultural heritage I had," said Idos. As she grew up, however, she observed the diversity America had to offer, illuminating how people with different cultural and socio-economic backgrounds as well as sexual orientations can mix together and all still identify as American.
"I prefer to think of us as a salad bowl, more so than the overused metaphor of the 'melting pot,'" said Idos. This realization inspired her to not only embrace her own culture and unique life experiences, but to draw from them to help others. "A culmination of experiences shaped the way I look at the world," said Idos. "Being queer and a woman, living in poverty in the Philippines, seeing what poverty looks like in America, learning about the Civil Rights movement. I did grow up here, and I feel like I share in this rich history. I have a personal commitment to help those who feel like they don't have the same access or opportunities to succeed. This was one of the roles I played as a student mentor, and now as a Diversity Analyst in my workplace."
While different experiences shaped Idos' perspective on the world, one moment she credits as a major influence is when she noticed the changing demographic between her diverse high school and her more homogenous university. "At first, I disengaged and was self-conscious around other students because I didn't fit in," said Idos. "I think the impetus for becoming an undergraduate student leader was knowing that other students of color were feeling disenfranchised, and were also looking for a community. I felt the same way, and resonated with their concerns to have their voices heard. This was a pivotal, coming-of-age time in my life, where I was trying to find my personal power, and supported others on their journey towards self-realization."
Her passion to help those who feel they have limited opportunities propelled Idos to pursue a career focused on helping marginalized individuals find their voice. As the Senior Analyst in the Diversity and Inclusion Office (DIO) at the Lawrence Berkeley National Lab, a U.S. Department of Energy laboratory, Idos mentors and serves as a point of contact for employees with concerns about discrimination or harassment. Employees may also seek her advice on situations such as preparing to come out as transgender in the work place. Idos is responsible for ensuring compliance with federal and state regulations on affirmative action and equal employment opportunities, and she even led a program that hired and trained employees with developmental disabilities. On a daily basis, Idos works towards promoting diversity in a office where the central demographic is predominantly white men. While a lack of diversity in the workforce stems from a wide variety of factors, including access to education, family, and community connections, Idos believes disparity starts in the classroom. In science courses, whose student and teacher demographic is made up of mainly white men, women and underrepresented ethnic minorities may feel disconnected and left out of the conversation. In order to feel they are a part of the class, many may overextend themselves by working even harder to prove their worth. This extra effort, as Idos argues, can become exhausting and cause minority students to switch fields or drop out of school. Seeing this disparity over the years, Idos wants to be a resource for marginalized populations. "In the work environment or academia, I think many women feel pressured to leave issues of work-life balance at home, just as people of color or LGBTQIA individuals might feel like they have to leave parts of themselves at home. This may be because they are observing some implicit or explicit cues that their entire identity doesn't belong in the workplace. This is upsetting, but it's a matter of changing the culture. I want to help others feel comfortable in bringing their whole selves into the workplace."
Professor Richard Greggory Johnson, a MPA professor at USF, has been studying the relationship between management and social equity. His research has shown that productive work environments help individuals feel comfortable to bring their whole selves into work, an idea Idos also holds to be true based on her work at the Berkeley Lab. "Becoming educated on how other individuals live should not only be standard procedure for a manager, but it should also be a foundational goal for achieving a successful and productive work environment," Johnson said.
In order to ensure she can be a resource for employees, Idos decided to pursue her masters at USF and build a stronger foundation of academic resources to guide her work. One of the courses Idos enrolled in was Professor Kimberley Connor's Leadership Ethics class, where the curriculum was centered on studying equality and equity. Idos was familiar with the idea of equality, sameness, and equity, or fairness, but the material she studied in Connor's class challenged her to analyze the words further. "We have to think about what these words mean. When we think about 'equality', we perhaps think of uniformity and sameness of basic rights. But when we think about 'equity', we have think about the relationship between the source and the recipient, about what is being given, who is receiving this treatment or service, and asking, 'is this fair?' This is one of the things I reflected on more deeply by being a part of the MPA program," Idos said.
While Idos has only just started the MPA program at USF, her classes have already impacted her work and sharpened her personal dream to help others. "The rich course material about equality, from case studies to academic journals, have helped me inform my work at the Berkeley Lab," Idos said. "I'm more confident in how I help people at work since I can back my advice with proven research. Being a graduate student has provided me with more tools and knowledge to do my best at work, as well as develop solutions and enhance efforts for diversity and inclusion. I want to be a voice of marginalized groups, an advocate, and support people in discovering what they want for themselves."
Image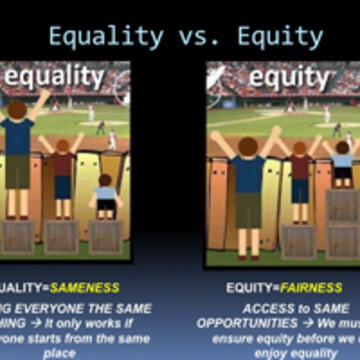 In early September, an opportunity arose for Idos to share her passion for equality and diversity when a friend asked her to speak at Global Citizenship Experience (GCE), a unique high school in Chicago, Illinois, where students learn how to connect their classroom work to the real world by participating in case studies, guest workshops and other experiential learning opportunities. After learning that the high school's motto, "breaking down walls to unite school with the world," shared the same philosophy as USF's own mission statement, "change the world from here," Idos eagerly pursued the chance to speak about affirmative action to the high school students enrolled in an Equality course. She gave the students a short history of affirmative action and how it provided individuals with the ability to pursue previously denied opportunities such as education. Idos challenged the students to think beyond definitions by drawing attention to their own preconceived beliefs about race. She showed them a short video in which a group of young children was presented with a chart of five kids on a skin-color scale from white to black, and was asked to choose the child they thought was the smartest, dumbest, kindest, meanest, etc. Idos engaged the students to think more critically about interacting with people of different backgrounds and appearances, which helped her bridge the conversation to discuss equality and equity. A simple tool she used to illustrate the difference between equality and equity was an illustration of three people of different height standing on boxes to watch a baseball game. In the "equality" image, each individual was given the same sized box, meaning the tallest person still had an advantage over the shortest. In the "equity" image, the shortest person was given the biggest box to stand on. Idos used the images to stress that equality means sameness, which only works if everyone starts from the same place. "Equity and fairness are about access," Idos said. "It's about making sure people are afforded enough opportunities, and that will not happen unless there is institutional support."