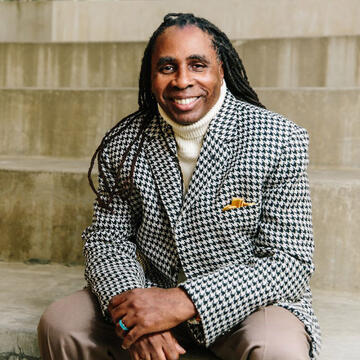 Richard Greggory Johnson III
Professor
Biography
Richard Greggory Johnson III is a tenured Full Professor for the University of San Francisco, School of Management. He is also Director of the Business Minor in the School of Management.
Professor Johnson's research centers on social equity within the fields of public policy, management, higher education and Human Resources Management.  He has been teaching in higher education for almost twenty years and is widely published with several peer-reviewed books and over two dozen peer-reviewed journal articles.
Professor Johnson holds graduate degrees from Georgetown University, Golden Gate University and DePaul University.  He holds membership in: Phi Beta Kappa Honor Society; Pi Alpha Alpha Honor Society; Pi Gamma Mu Honor Society. Professor Johnson is also a life Member of the Alpha Phi Alpha Fraternity Incorporated.
Education
Doctorate in Public Policy & Administration, Golden Gate University, Edward S. Ageno School of Business
M.A, Social and Public Policy, Georgetown University
MS, Public Services Management, DePaul University, School of Public Services
Awards & Distinctions
L. Douglas Wilder School Award for Scholarship in Social Equity and Public Policy Analysis, 2012
LGBT Scholarship and Service Award, 2008
President, Pi Alpha Alpha Honor Society, USF Chapter
Executive Editor, Black Studies & Critical Thinking Book Series, Peter Lang Publishing, 2010–present
Treasurer, USF Policy Board, 2012–present
Director, Public Administration programs (MPA, BPA, and MPA online), USF, 2011–12
Program Director, Race and Culture, College of Education and Social Sciences, University of Vermont, 2006–11
Selected Publications
"The Importance of Social Movements and the Intersection of Social Equity: Marriage Equality and RACING towards Justice," Journal of Public Management, V.19, Nr. 1, 2013

"The Intersection of Black Men and Sexuality in a Time of Change: Striving for his Place in the 21st Century," National Association of Student Affairs Professionals Journal, 2012

"Promoting Social Equity in public administration: A much needed topic in the 21st century," Public Administration Review, Vol. 72, Nr. 3, 2012

Teaching College Students Effective Communication Strategies for Effective Social Justice Advocacy, Peter Lang Publishers, 2012 (with R.J. Nash & M.C. Murray)

The Black Professoriat: Negotiating a Habitable Space in the Academy, Peter Lang Publishing, 2011 (with Dr. Sandra Jackson)