Equipped to Lead and Succeed
Top MBA College Ranking and Public Administration Program Continue to Rise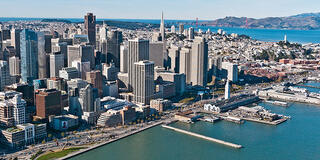 U.S. News and World Report Honors the USF MBA With Top 20 Rankings Across Four Disciplines
USF School of Management celebrates its most recent rankings from U.S. News and World Report that place the USF MBA as a top 20 Program in four different areas.
The USF MBA ranked...
#14 in Entrepreneurship
#17 in Management
#19 in Finance
#20 in Marketing
In addition to the specialty MBA rankings, the redesigned Part-Time MBA achieved one of the highest one year jumps in the ratings - climbing over 50 places. 
"The USF School of Management is building leaders who innovate and create the future of business. Come join the experience and help change the world from here."
Elizabeth B. Davis
Dean of the University of San Francisco School of Management
USF Master of Public Administration Climbs Once Again In Latest Us News And World Report Rankings 
This also is the fourth consecutive year of improved rankings for our Master of Public Administration program. This year the USF MPA jumped from #115 to #108, further demonstrating USF's commitment to offering a collection of the most esteemed graduated programs in the Bay Area.
"USF's leadership, faculty, and staff have worked consistently over many years building the Master of Public Administration (MPA) graduate degree program at USF.  Since 1978, our program has focused on bringing current research and best practices into the classroom, providing students with the competencies to create more humane, effective, and equitable communities, especially for the most vulnerable among us," said Catherine Horiuchi, MPA Program Director.
"This is reflected in our public service values: social justice for all people; diversity in all its forms; integrity in all we do; accountability to all we serve."
Catherine HoriuchiPublic Administration Program Director