Equipped to Lead and Succeed
USF's Startup Weekend Momentum
Image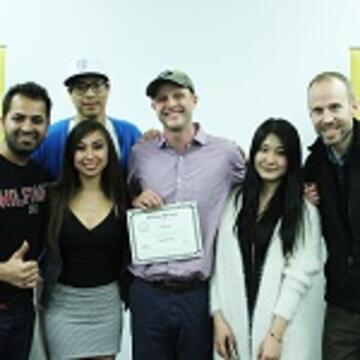 In just fifty-four hours, aspiring entrepreneurs pitched ideas, formed teams, built products and platforms and even launched their companies during the University of San Francisco's (USF) third Startup Weekend.
"We were blown away by the progress that the teams made over the course of the weekend," said Kristian Bouw, founder of Notion Theory, the event sponsor. "We've been to quite a few different Startup Weekends up and down the East Coast and we seldom see so many teams coming up with functional prototypes or full-fledged applications by Sunday evening. This was really cool to see."
The entrepreneurial marathon was organized by three MBA students, Entrepreneurship Club (EC) President Dylan Goelz and EC members Lucas Hanson and Holly Brim, who had been working on the event since December. The students' hard work paid off as the event flowed seamlessly. "People have been engaged and extremely energetic," said organizer Lucas Hanson. "Our goal was to improve USF's brand, make the university's activities more accessible to the public, especially the startup community and put our name out there. We had 74 participants, only about half were USF students, so I'm very happy with the diverse Bay Area turnout."
USF's event followed the official Startup Weekend program. Friday evening marked the start of the allotted fifty-four hours teams had to work on their project, which kicked off with idea pitches. Participants voted for ideas on poster boards, with teams forming around the ideas with the most potential. On Saturday, teams focused on market research and product design. On Sunday, teams completed their prototypes and platforms, tested their products and worked on their presentations. The weekend culminated on Sunday evening with final presentations to a panel of judges, who gave out three prizes.
One of the judges was Jennifer Walske, Program Director of USF's Master of Global Entrepreneurial Management program and faculty advisor to the event's organizational team. "It's so cool to see the transformation during the weekend," she said. "Everything happens during these fifty-four hours, starting with pitches and brainstorming and finishing with working platforms and prototypes. These kinds of events are great opportunities for leadership and creativity, this the reason various prestigious universities around the U.S. make them a priority and now USF does too."
Armed with a template, checklist and many years of experience, Startup Weekend facilitator Ben Gilbert served as an advisor and mentor to both the participants and the organizational team. "I'm just here to advise. Setting up the event, getting sponsors and judges and participants, that's all on the organizing team, and they did a great job," Gilbert said. This is my twenty-third Startup Weekend; I've seen all the mistakes before and they are not reasons for teams to give up. They are opportunities to recalibrate and keep thinking critically. And if they need it, I'm here to give them a nudge in the right direction."
Saturday's keynote speaker Sonny Tosco agreed with Gilbert's sentiments on mistakes. "In the beginning of any venture you're going to make a ton of mistakes," said Tosco, speaking of the early days of his own company, Limelight. "The trick is to learn from them. I did. You have to say to yourself, okay now I know to start only with essential personnel, or hey I guess that wasn't the way to talk to potential investors. That's stuff you don't get from reading case studies in grad school, which is why this real-life experience is so important."
Teams' projects were judged using three criteria: validation (how thoroughly did the team research its product and the market for it), execution (the quality of the design) and business model (how unique is the product or service and how is the team going to scale and expand their business over the long run).
The competition was judged by Opinder Bawa, angel investor and USF's CIO, IBM's Angie Krackeler, startup evangelist, Marco Buhlmann, former CEO of Tame.it and angel investor, Jennifer Walske, USF professor and angel investor, and Vijay Mehrotra, Professor of Business Analytics and Information Systems at USF and angel investor. The judges were adamant that participants use the competition as a learning experience.
Only 12% of Startup Weekend teams continue with their idea in the long run," said Opinder Bawa. "You'll fail, and that's okay. Solid teams are more important than the specific idea you are working on, and learning experience is much more valuable than getting everything right from the start."
Third place went to DIY Music, a cloud-based music composing software platform that doesn't require a music theory background. The team won a $100 Udemy Learning gift card for each member. Musician, programmer and USF Freshman Zane Witherspoon pitched the original idea. "I am so excited and happy to have won third place," he said. "It was a crazy few days and we worked really hard, but we have a solid team now and we want to keep the momentum going. This idea has so much potential."
Second place went to Fundy, a team dedicated to the belief that investing for equity should be possible for everyone. Their investment platform makes it possible for people to invest as little as $10 into growth-stage companies and incorporates social causes as investment opportunities. The team won $1,000 to be used towards legal fees to set up their company.
First place went to TagAlong, a platform that enables tourists to "live like a local" and strives to make tourism a bigger part of the sharing economy. The team won two weeks and $6,000 worth of assistance with their platform prototype, sponsored by Notion Theory, and $1,000 to be used towards legal fees for setting up their company. The original idea was pitched by Andy Hunter, who is a professional tour guide in San Francisco and an MBA student at USF. "This is awesome validation of an idea that I'd been kicking around for a long time," Hunter said of winning. "As a tour guide, I know that many tourists who visit SF don't get to see the 'real' city and all the things locals love about it. So I thought, if you could pay someone to perform a service with you, take you bar hopping for example, I know that tourists would be interested because they ask me about it every day, and I know locals would jump at the chance because honestly, who isn't looking to make a couple extra bucks doing something fun."
The event's main sponsor, Notion Theory, is dedicated to helping aspiring entrepreneurs build and launch their products in four weeks. All four Notion Theory partners came down for the weekend to act as coaches to the teams and get to know the winning team they'll be working with as part of the competition's first prize. "We got involved with the event because we really like supporting the entrepreneurship community and wanted to get a better sense of that community out here in the Bay Area," said Notion Theory's Peter Dudka.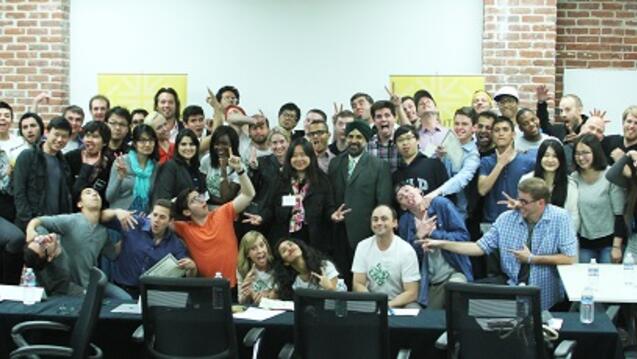 The Notion Theory team agreed with the weekend's judges that the learning experience of events like Startup Weekend is more valuable than most teams' final products. In a blog post about their experience at USF, they stressed that it is inevitable that someone else has already thought of your idea, and it's your execution that counts. "Win or lose, this weekend was a fantastic demonstration of what it takes to do well as an entrepreneur," they wrote. "Teams are always going to be better than ideas and the novelty of any idea is always going to be overrated. No matter what idea you're working on, the success you achieve is always going to be driven by the amount of effort to put in." Next year's Startup Weekend participants can certainly take that advice to heart.