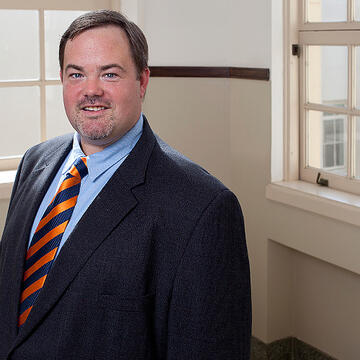 Richard D. Waters
Associate Professor
SFH Downtown Campus, Room 226
Biography
Richard D. Waters is an associate professor in the School of Management, where he teaches strategic communication and communication management courses. His primary research interests are fundraising, stakeholder loyalty and relationship cultivation, and the use of new technologies in organizational communication efforts.
He serves on the editorial review boards at Public Relations Review, Journal of Public Relations Research, Journal of Public and Nonprofit Sector Management, Journal of Promotion Management, and Prism. He is the current associate editor of Case Studies in Strategic Communication. He is the editor of Public Relations in the Nonprofit Sector: Theory and Practice (2015, Routledge) and co-editor of Coming out of the Closet: Exploring LGBT Issues in Strategic Communication with Theory and Research (2013, Peter Lang).
Currently, he is the chair of Public Relations Society of America's Association and Nonprofit Organization Professional Interest Section and the vice head-elect for the public relations division at the Association for Education of Journalism and Mass Communication.
Expertise
Public relations and strategic communication
Research Areas
Communications
Public Relations
Education
PhD, Mass Communications, University of Florida, Gainesville, FL, 2007
MS, Public Relations, Syracuse University, Syracuse, NY, 2000
ABJ, Public Relations (Minor in Political Science), University of Georgia, Athens, GA, 1998
Prior Experience
Assistant Professor, North Carolina State University
Alumni Fellow, University of Florida
Consultant, Walt Disney World Parks & Resorts, Doctors Without Borders, among others
Awards & Distinctions
Vice Chair, AEJMC Public Relations Division, 2016

PRSA Association/Nonprofit Professional Interest Section Chair, 2015

Outstanding Research Award, USF School of Management, 2012 and 2014

Outstanding Paper of the Year Award, Corporate Communications: An International Journal, 2012

Top Faculty Paper Research Awards from International Communication Association, National Communication Association, and Association for Education of Journalism and Mass Communication
Selected Publications
"What do stakeholders "like" on Facebook? Examining public reactions to nonprofit organizations' status updates," Journal of Public Relations Research, Vol. 26, Issue 3, 2014 (w. G. D. Saxton)

"Virtual stewardship in the age of new media: Have nonprofit organizations moved beyond Web 1.0 strategies?," International Journal of Nonprofit and Voluntary Sector Marketing, vol. 18, Issue 3, 2013 (With K. L. Fenley)

"Tracing the impact of media relations and television coverage on U.S. charitable relief fundraising: An application of agenda-setting theory across three natural disasters," Journal of Public Relations Research, vol. 25, Issue 4, 2013

"Improving volunteer retention efforts in public library systems: How communication and inclusion impact female and male volunteers differently," International Journal of Nonprofit and Voluntary Sector Marketing, Vol. 17, Issue 2, 2012 (With D. S. Bortree)