Alumni
Shanghai Hosts USF's First In-Person Event in a Year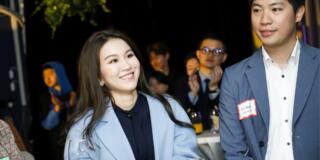 With the glowing outlines of the dramatic Shanghai skyline behind them, 76 members of the USF community gathered — in-person — for the University's first live event in over a year. Students, alumni, and parents alike welcomed the chance to connect with each other in China's largest city after a long COVID-19 lockdown. And by the end of the night, valuable new Don connections were made on the other side of the Pacific.
The spring reception event marked the launch of the USF Greater China Alumni Chapter. According to co-host Hengliang "George" Fang '16, the event was "completely successful" as a way for USF in Shanghai undergraduates to network with local alumni and cultivate a sense of community. One alumna at the event said it was the most she's laughed in a year.
"We've brought USF events into people's homes and lives through technology this year," says Susan Ewens, senior director of external relations and special events. "But nothing beats the ability to network in-person, meet a new friend, share a story, and laugh in-person."
Joining local alumni for the networking reception were the first group of students attending USF in Shanghai, a partnership with The Education Abroad Network. 104 undergraduates in the program take online classes through USF, and in-person instruction at Fudan University, one of the most prestigious universities in China. Some students in Shanghai approached Anastasia Vrachnos, associate vice president for international initiatives at USF, seeking to network with local alumni. In China, where COVID-19 has largely been contained, an in-person event made all the sense in the world.
"The purpose was to introduce our students to USF alumni there in order to cultivate a sense of community and make them feel a part of the USF family —even though the students are far from the Hilltop," says Vrachnos.
Assembling an event over 6,000 miles away "took a village," says Vrachnos. USF's Office of Development, Office of International Initiatives, and the School of Management collaborated on putting together an event that no one from the original campus would be able to attend. But to make sure that the Shanghai group still got a proper USF presidential greeting, Father Paul sent a video message.
"When we saw the video sent from USF, many of us had tears in our eyes," says Shirley Shou '20, who says she was the "first one to RSVP" for the event. "We miss that lovely place and those lovely Dons."
The foundation for the April 10 event began years prior, with the alumni relations team from the School of Management. For the past three years, frequent visits to Shanghai helped them identify suitable venues and host other successful events for alumni and students. Along with Fang, Yan Xiong '16 served as a co-host and helped prove to Ewens that USF alumni can be "an extension of our team."
"Thankfully, our alumni are incredibly passionate about our students' experience as well as continuing the USF spirit in Asia," Ewens says.
By supporting our alumni through a formalized platform, USF hopes to ignite and unify our collective strength," says Fang.
He adds that future hopes for the chapter include regional branches, more events, and professional forums.
The reception was a needed balm after so much isolation in China and all over the world. Shou, who graduated over Zoom, didn't feel like she had the chance to say a proper goodbye to her classmates. The event helped to reconnect her with her USF community and inspire her to spread the spirit as an alumna.
"Dons always help Dons," says Shou. "It's what I learned at USF."
Join the Greater China Alumni Chapter and learn more about how to connect with USF alumni around the world on NetworkUSF