Equipped to Lead and Succeed
Trippy Hippie
Allan Graves MBA '10 offers San Francisco tours in tie dyed Vanagons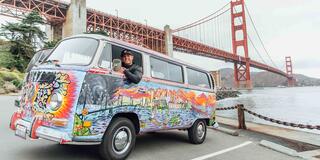 For Allan Graves MBA '10, there's no better way to see San Francisco than from the inside of a vintage Volkswagen bus.
Graves is founder of San Francisco Love Tours, which gives tourists a chance to explore the former hippie Mecca while taking rides in VWs decked out with trippy murals, shag carpet, and beaded curtains.
"We go everywhere from the Presidio to Haight-Ashbury," he says. "I love pointing out where Jerry and Janis used to live in the Haight, while playing some of their songs on the stereo." 
The longtime San Francisco resident and VW enthusiast credits his USF business education with giving him the skillset — and confidence — to set out on his dream venture. 
Late night inspiration
Graves had the idea for San Francisco Love Tours at 2 o'clock one morning, waiting on an international sales call. The call never came.
Having lost a night's sleep, he sat in the dark taking stock of his life. His daughter had gone off to college, his dog had died, he'd broken up with his girlfriend. Even though he was a highly paid executive, his heart was no longer in it.
Maybe, he thought, he needed a project car to work on — something to distract him. That thought led him to Craigslist, which led to an ad for a Volkswagen bus, which led to a spark. 
"I called up my friend Miguel Colon the next morning and was like, 'Hey dude, I have this crazy idea. Imagine this: A 1970s VW bus, painted in tie dye colors, picking up tourists and taking them to all the spots that we love to go," says Graves. 
Miguel told him, "I can already see it: San Francisco Love Tours."
Decision time
Before Graves could create his business, he first had to overcome an obstacle: fear. Was he willing to quit his executive job and put his time and energy and savings into … driving a Volkswagen bus? 
He started crunching numbers. One of the most valuable skills he learned in the USF MBA degree program, he says, is how to create a weighted average table for risk analysis. 
"It's a decision-making table, basically," he says. "I use it all the time, even in my personal life."
He had to weigh a lot of factors, including how important it was for him to be a big earner, how important it was to stay on his current career path, and whether his "crazy idea" was viable. Ultimately, the numbers suggested that San Francisco Love Tours could succeed. The only thing left to do was to take the plunge.
'Best decision I've ever made'
The beginning was a challenge. Graves built the business from the ground up, starting with an Indiegogo campaign that some of his former classmates donated to. His first supporter and investor, he says, was his brother Roberto Graves '04. 
Allan Graves did all the VW tours himself — hauling 2,000 visitors the first year — barely stopping to take a break. 
But soon he was able to add five more VW buses to his fleet and hire drivers. Now he's mostly behind the scenes, working on a planned expansion to Philadelphia. 
"I love cars, I love San Francisco, I love to talk, I love music — my business has it all," he says. "Doing this is the best decision I've ever made. It changed my perspective on what matters the most." 
Know someone with a powerful USF story? Let us know! usfnews@usfca.edu | Twitter @usfcanews