Giving
The Female Veteran Voice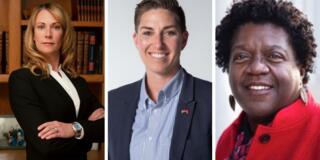 Across the nation, current events have sparked long-awaited conversations about the social inequities that continue to impact marginalized communities. At this year's Women in Leadership & Philanthropy Symposium, a panel of women from USF's Master in Public Leadership program brought attention to the injustices they faced during their service in the U.S. Armed Forces and the importance of uplifting "The Woman Veteran Voice." 
Bringing together diverse backgrounds and insights, these women reveal stories that often go unheard and unrecognized. The panelists included Elizabeth Stephens MA '20, Kathryn Smith MA '22, Jacquelyne Nichols MA '22, and Janessa Goldbeck MA '21. Together, they share why the time to speak up is now. 
Different Facets of A Shared Battle
Goldbeck emphasized the importance of creating platforms for discussions that elevate the female experience, especially in light of the clear disparity between men and women in active duty. 
"There were many cases where I was the only woman in the room. I very quickly came to understand that if there were things that didn't make sense and I didn't say anything about them — as a gay person, as a woman — who was looking out for the younger women?" Goldbeck said. 
During her time in service, Nichols felt the impacts of being outcast by her unit and not having a support system to protect her from maltreatment. 
"I had to fight. My entire time in service, I had to fight. Because I was the only female in the squadron or one of very few, they discounted me, so I had to find allies and advocates. I was very fortunate that I had some of those along the way, but not always," Nichols shared. 
Despite the differences in their individual experiences, these women are united by their collective battles against misogyny, prejudice, and trauma. After being in rooms that tried to silence them for so long, these women came away with greater strength and the readiness to be advocates for change. Now, they seek out ways to uplift and embolden the voices around them. 
Allyship and Advocacy
The group's discussion underscored the value of building support for women and becoming advocates for change. 
"It boils down to leadership," Nichols stated. She asserted that leaders have a duty to recognize the influence they have on the toxic cultures that exist and to take action in solidarity with women. 
"You might be okay with people saying or doing [these] things, but somebody else might not be and their life might be significantly more impacted. It's our personal responsibility to become vocal advocates for those who might not have that same voice or privilege," Goldbeck added.
Craig Newmark, the founder of Craigslist and Craig Newmark Philanthropies, is one of the leaders facilitating support to women veterans like these. 
He shares that "Veterans have sacrificed a lot to protect the USA, and Americans owe vets a lot in return. Women vets have exemplified serious patriotism, often under unusually trying circumstances. In many cases, they follow military service with exemplary public service."
Newmark has continued to put these expressions of support into action by providing generous donations to launch and fund the university's Public Leadership program. He also pledged a $300,000 gift on Day of the Dons to USF's Women in Tech initiative, which supports the women and veteran populations. 
This is Only the Beginning 
All four of these women have exemplified tremendous resilience throughout their careers, and they are determined to continue creating these spaces for honest reflection. More work is yet to be done, and the conversation has only gotten started. 
"Just because you don't have a military background or a military history, that doesn't mean you're not fighting the war that's your own. You see something, say something — Network. Find us. We are here for you," Stephens said. 
To support these incredible women and to promote events like these, consider making a gift in support of the College of Arts and Sciences, Women in Leadership & Philanthropy, and Changing the World From Here: Campaign for the University of San Francisco.