Alumni
Making a Difference: One Smile at a Time
Five Questions With Anthony Hua MBA '21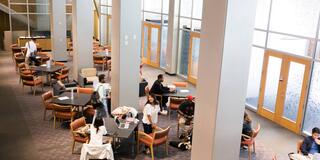 At USF, students receive the tools and resources to generate new ideas and inspire real-world change. Anthony Hua MBA '21, recipient of the Litvak Social Innovation scholarship,  submitted a proposal that shares how he plans to change the world through the Doctor of Dental Surgery (DDS) / MBA dual degree program, a partnership between USF's School of Management and the University of California San Francisco School of Dentistry.
What does "Changing the World From Here" mean to you? 
My parents were Vietnamese immigrants who came to the United States as teenagers. Along the way, my dad spent time in a refugee camp, waiting for a country to accept him and his family. One day, he built a swing for his younger sisters using their canvas tent as support. Within the week, the swing spread through the entire refugee camp, and giggling kids on similar swings were found outside every tent. In a moment of uncertainty, my dad used a plank of wood and some rope to change the world for everyone in that refugee camp. It is easy to think that changing the world requires a grand action beyond the capability of any individual person, but as my dad proved, this is not always true. Wherever we are, as long as we stay present, we can change the world. There is always an opportunity to make a difference in the world. 
Who is someone you know within the USF community who is "Changing the World From Here" and how?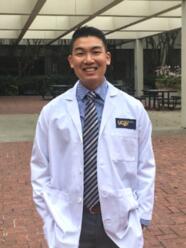 Dr. Shivani Shukla teaches Big Data Strategy and Visualization. Dr. Shukla convinced a company to provide us with live data to address a real-life problem. Thanks to her foresight, organization, perseverance, and encouraging support, every group presented insights to representatives from the company. She showed the educational value of this program during a time when students were feeling unsure about education due to the pandemic. Dr. Shukla completely embodies the creativity, brilliance, and confidence needed to Change the World From Here.
What inspired you to pursue the DDS /MBA dual degree program and what are your aspirations for the future? 

I pursued the MBA at USF to gain an interdisciplinary perspective that I can apply to improve the accessibility and quality of dentistry care. No matter how the profession evolves, the themes are accessibility, quality, patient safety, and cost of service. If you change the word "patient" to "client," healthcare becomes a service industry. Moreover, health organizations have identified tooth decay as the most prevalent chronic disease affecting children in the world. This is a largely preventable disease that can directly impact a person's quality of life as teeth function in fundamental human actions such as chewing, swallowing, speaking, and smiling. Alongside increasing evidence that proves a connection between oral health and systemic health, more people and more money are being invested into dental health than ever before. 
How has the Litvak Social Innovation Scholarship impacted you? 
My proposal for the Litvak Social Innovation Scholarship was to create a curriculum that would better prepare future dentists to understand evolving technology. Our goal as practitioners is to increase patient satisfaction, care, and safety with our treatment, and if technology becomes an increasing part of it, we must better understand it. Receiving the Litvak Social Innovation Scholarship has inspired me to think more about how people operating technology can better utilize the tools at their disposal.  
Why are you proud to be a USF Don? 
Jesuit values instilled into the curriculum gave me context to relate everything I learned back to dentistry and how I could better serve my patients. In the constantly evolving world, we all find ourselves in, I am glad to have this foundation because there is no shortage of opportunities to practice applying these values, both in the world of dentistry and beyond. 
To support students like Anthony consider making a gift in support of Changing the World From Here: Campaign for the University of San Francisco »