Giving
Know Your Why: Small Gifts Achieve Big Change
5 Questions with Whitney Rollerson MA '19, Young Alumna Donor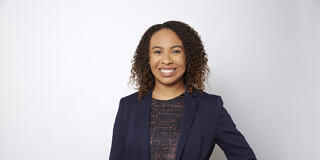 Soon after graduating from USF's Master's Sports Management program, Whitney Rollerson MA '19 took the initiative to give monthly to USF. Rollerson defies the boundaries of what it means to be a philanthropist and proves that giving doesn't have to be restricted to a specific age, level of experience, or financial capability.
Rollerson works as an event coordinator for the University of Southern California and gives an average of ten dollars per month to initiatives that have had a significant impact on her USF experience, such as the USF Black Achievement Success and Engagement Initiative
As a result of Rollerson's generosity and the philanthropy of other motivated donors, USF can move forward in its mission for global change. No matter the size, each gift's impact transcends far beyond monetary value. Every gift has transformative power.
What does "Changing the World from Here" mean to you?
It means creating and finding ways to change the world from wherever you are. It's not waiting until you reach a certain position, certain status, or certain lifestyle before impacting the world around you. It's using the space you are in right here, right now, to create change. You never know the impact your actions can have on someone, so take every opportunity you can.
What impact has USF had on your life thus far?
I attended USF for graduate school down in Orange County, CA while working at USC. Although I wasn't able to be on campus in San Francisco, the flexibility of the graduate program allowed me to pursue both my professional and academic endeavors. The mission and values that USF represents travel well down the 5 freeway. USF has given me the confidence to move forward in directions that I never considered or thought of before.
What inspires you to give back?
I'm a huge believer in giving back to the institutions that made me who I am today. Whenever I can, I volunteer my time to my high school, I work for my undergraduate alma mater, and I find ways to stay involved with USF and my graduate Sport Management community — not just my time, but monetarily as well. I give back so that USF can continue to give and create change for students. Every little bit helps.
Is there someone in the USF community that has had a substantial impact on your college experience?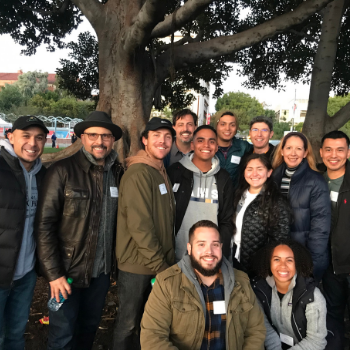 Yes, I have been fortunate to have had quite a few mentors and professors over the years who have impacted me. To name just one group, the Sport Management program faculty, including Nola Agha, Daniel Rascher, Richard Cellini, Michael Goldman and many others, is a phenomenal group. They push you to go the extra mile, make you think outside the box, and always remind you to think about the bigger picture. I've carried many valuable lessons and skills from the program to my work in higher education. I could not be where I am without them.
What is a piece of advice you can give to current Dons?
Find and build your community. It can be big, it can be small, but make it yours. Whether it's your friends, roommates, classmates, professors, or staff, find your people. Long after you graduate from college, the relationships you made along the way are going to stay with you. The memories that you form with others are going to stick much longer than the labs, essays and late nights will.
The second piece of advice that I carry with me is "know your why." Know why you are doing what you're doing. Know why you want to be in this major, this club, this internship or this job, and internalize it. Once you see the bigger picture of your journey, it'll help keep and sustain you through the tough times of life.
To join philanthropists like Rollerson in support of the USF community, consider making a monthly gift of any size in support of Changing the World From Here: Campaign for the University of San Francisco ».