Alumni
Retail, Hair, and a Venture Firm
Five Questions with Joy T. McGowan '03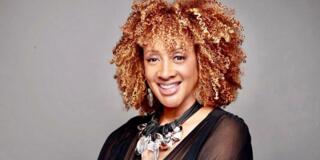 Joy T. McGowan '03 is a USF alumna driven with the ambition to fulfill her goals while also enriching the lives of others. McGowan graduated from USF's School of Management where she studied Information Systems. She has used her USF education to leverage her career, which gave her the freedom to explore her dream of becoming an entrepreneur.
McGowan has founded three businesses: a retail boutique, Harmony Ventures, and I Luv Curls. When she looks to the future, she knows the roadmap of expansion her businesses will take. Committed to a life of service as a School of Management Dean's Circle member and Black Achievement Success and Engagement (BASE) Program mentor, Joy invests in USF because she knows she can help others expand too. 
Why is it important for you to be involved at USF?
I continue to stay involved at the University of San Francisco to ensure the health of the school. The School of Management was an excellent choice for me. At the time, I was enrolled in what was then called the college of professional studies, and I was working for AT&T selling data networks and managing small business accounts. I enrolled at USF around the same time I took the job. At the time I enrolled, I was learning the same things at school as I was learning in my job. The coursework and my role all worked together. I was capable of being in that program, and even helped some of my colleagues get jobs at AT&T. I was interested in staying involved with the School of Management because I believe in the value of continued education and the value of diversity in these programs. I wanted to be a voice around diversity and continued education in adulthood because those things helped me achieve my professional goals today.
Why did you decide to become a Black Achievement Success and Engagement (BASE) program, mentor? 
When I was a 17-year-old, I went to California State University of Northridge. We had similar programs like BASE on campus, but it wasn't knitted together as well. I became acquainted with what the BASE program was doing through someone at USF who introduced me to Dr. Candice Harrison, BASE's faculty director. I see the value in helping these students graduate and graduate on time. 
With the uptick of African American students enrolling at USF, I'm excited about it. I'm inspired by the students, and my hope is that we will have more mentors to cover the entire population of students. With more volunteers, we can mentor, sponsor, and assist them with whatever their needs may be. USF has a lot to offer, but we are in a precarious time, the young people need all of the support they can get, but I'd like to see more hands-on deck as we evolve. 
What are the kinds of moments that make the investment of mentoring worth it to you?
I speak with my mentees on a weekly or biweekly basis. You see growth in those meetings, "aha" moments, and the opportunity to expose them to things they haven't thought about. You know when you've made an impact because the conversations change. The goals and objectives change, and the accountability increases. Their language about themselves changes, the language about what they're facing starts to change. It's been a real pleasure working with these young people. 
What drove you to start your own businesses? What would you say to others who want to start their own business but are scared or don't know where to start? 
I knew I was going to be an entrepreneur since I was a little kid. I always saw myself creating new products and it became my goal. I left my corporate job to start my passion project. When I left AT&T, I opened up a retail boutique with products that I made and manufactured. I opened it up in 2008 right before the economy crashed, and I knew after that I didn't want to do retail again. The next thing we did was a boutique firm, Harmony Venture Partners (HVP), which allows pre-IPO stock to get liquid, and for investors to get stock before the IPO offering. In the next few years, I want HVP to participate in angel and seed investing so we can have the control to sponsor more people into business.   
All the while I knew creating my own product line wasn't over for me. I pivoted from bath and beauty to hair, because I started wearing my hair natural, and I wanted to share my knowledge; that was the birth of I Luv Curls. It's been an opportunity to share products that have worked for me which hopefully can help others who are in a similar spot, and help them with mentoring, empowerment, and education. Looking to the future, I'd like it to become a global brand in concert with my personal brand, Joy Truth, offering a range of products in beauty, accessories, and decor. 
What does "Changing the World From Here" mean to you?
Equipping yourself with information, applying that information to helping other people, doing things in your community, and enriching yourself personally, so you can be of help to others. 
Interested in changing the world from USF? Learn more about ways you can get involved with the BASE Program or Women in Leadership & Philanthropy.