Alumni
Paving the Way for the Next Generation of Diverse, Innovative Leaders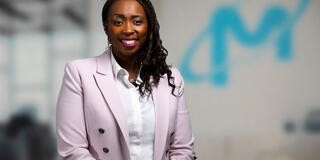 Spiritual, a veteran, a wife, a mother, and a part-time introvert are just a few words that make up her identity. Regina Lawless MSOD '12 is the global director of diversity, equality, and inclusion at Micron Technology, a leading semiconductor company specializing in innovative memory and storage solutions. Throughout her career's journey, she has worked alongside countless engineers, and beginning in fall 2020, Lawless will sit on USF's Founding Engineering Advisory Council for the College of Arts and Sciences.
Engineering at USF will focus on important global issues in an increasingly technological world, to meet growing demand from students and employers. The goal is to design a curriculum to educate a new kind of engineer, who has strong technical and design skills, communicates well, understands business and economics, and will lead ethically.
The purpose of the Founding Engineering Advisory Council is to guide exactly that: programming and decisions that will allow for the education of a new kind of engineer. Members will be asked to provide input and guidance on curriculum, to provide educational and professional opportunities and research, recommend and provide access to internships and job opportunities, and lead or connect with outside experts to instruct in seminars and special events.
"We looked for advisory council members who had real world experience that they could bring to the department or specific educational experience that supported our innovative pedagogical approach," said Jeremy Kasdin, assistant dean for engineering programs at USF. "We also sought a diverse council, with members that reflected the makeup of our student body as well as providing a balanced representation in the three areas of the department: environmental engineering, electrical and computer engineering, and the sustainable built environment."
Like many journeys in leadership, Lawless' journey to her position now as a global director as well as a member of the Founding Engineering Advisory Council was not one without trials and obstacles. However, her journey to leadership in both these positions equipped her with the knowledge of the type of leader she is and wants to continue being.
Confidence and Capabilities
Lawless' path crossed with USF when she was looking to advance further in her career and realized to do so effectively, achieving a higher-level degree would be necessary.
So she committed to pursuing her masters in organizational development and ironically started classes the same day her son began his first day of kindergarten.
"The program's focus on humanity resonated with me," Lawless said. "The Jesuit values incorporated into the curriculum spoke to me about operating and doing things in a way that gives back to the people around us. That has stayed with me since."
Throughout her career journey, Lawless said there have been several times she was undervalued, underutilized, or underestimated, but during those times, she always knew her own value and worth and that was what carried her through.&
"I grew up in an environment that trained me to be quiet and listen to authority. I was hesitant to speak up in meetings or push back which led some people to underestimate my abilities," Lawless said. "I was eager and always got the job done, but because there weren't a lot of leaders who looked like me as a young black woman, I felt I was constantly having to show up and prove to everyone I could do this. But I always knew I could. I always believed in myself."
Seven years into her career, Lawless received her first direct report and that milestone gave her the opportunity to become the leader she always needed. One that is relational, builds trust, leads by example, and understands that each individuals' needs and talents are unique and empowers them in that unique way.
"Leadership is not a spectator sport," she said. "You have to get in and get your hands dirty."
Opening Doors for the Next Generation
Lawless extends her leadership experience not just to the university's Founding Engineering Advisory Council, but also volunteers with USF's Women in Leadership & Philanthropy initiative which holds a yearly symposium with female leaders from all sectors to discuss how to empower the next generation of leaders and navigate current world and industry issues.
Her involvement in the two go hand-in-hand: to see more diversity so young scholars from all backgrounds see someone who looks like them involved, passionate, and successful on all fronts.
"First and foremost, her enthusiasm," Kasdin said, is what led to asking Lawless to be a member of the advisory council. "Regina shares with us the vision for the school as embracing diversity and viewing each student's unique background as an asset. We believe that Regina's background and experience as a diversity officer will provide the department with an important perspective as we guide our students to graduation," he concluded.
Engineering at USF will launch in the fall with an undergraduate program, followed by several master's programs in the future.
----
To support Engineering and other programs in the College of Arts and Sciences at USF contact Carli Thomas Director of Development, College of Arts and Sciences at (415) 422-6006 or cbthomas@usfca.edu.
Engineering at USF is part of: Changing the World from Here: Campaign for the University of San Francisco. Learn more about the campaign initiatives philanthropy is funding »
Learn more about involvement with and support of USF's Women in Leadership & Philanthropy initiative