Giving
A Lifelong Commitment to USF
The Tarantinos give $1 million for scholarships
Dominic and Leona Tarantino have been supporting USF since they were students at USF and Lone Mountain — and nothing shows their unwavering affection for the university more than when they arrived back in the U.S. after being stationed for two years with the U.S. Army in Ulm, Germany.
Upon landing in New York on an Army transport ship, the couple bought a car and drove cross-country to Kansas City to cheer on the Dons' basketball team in the 1957 NCAA Final Four playoffs. Although USF fell short of winning its third consecutive national championship, the Tarantinos wouldn't have missed it.
Today, the Tarantinos have pledged a $1 million gift to USF to provide scholarships for students in the School of Management accounting program. This gift comes after many years of supporting construction on campus, athletics, and several other endowed scholarships. Mr. Tarantino also served 18 years on the Board of Trustees.
"We are really connected to USF," he says. "It started when I was student body president, and then it morphed from alumni association president to the Board of Trustees, where I was chair, from 1999 to 2003."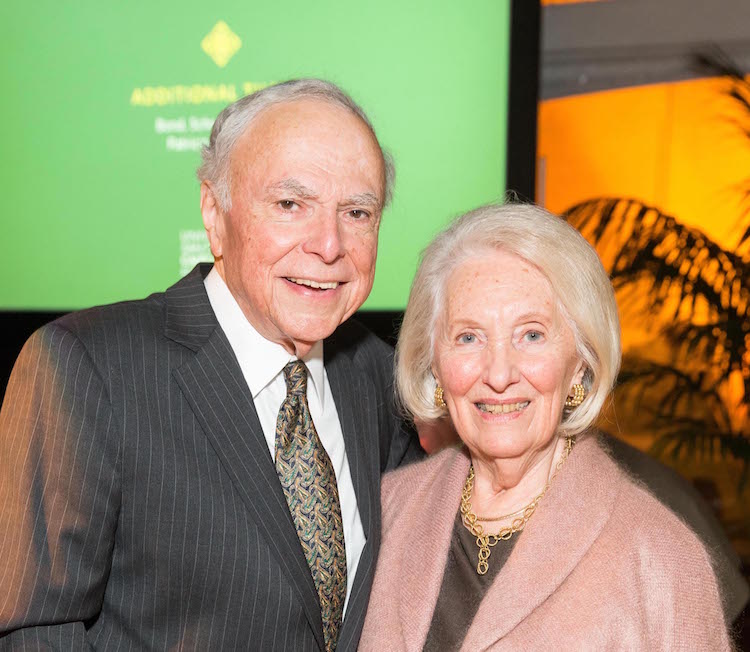 San Francisco natives, they met during high school while he was at St. Ignatius and she was at Presentation Academy. While she decided to attend the San Francisco College for Women, which later became Lone Mountain College and was acquired by USF in 1978, he chose USF. Mrs. Tarantino has a degree in art history with an English minor, and Mr. Tarantino majored in accounting.
They were first generation students and their immigrant parents expected them to get a good education and work hard. In his case, that also meant working in the family poultry and seafood business every Saturday and most school breaks from about the time he was 12.
The university prepared them well, the Tarantinos say, and they want to help today's students.
"I certainly want to continue helping the School of Management," Mr. Tarantino says. "Being an accounting major I am happy that I can support the program. At the end of the day, the most impactful thing we can do is help a student who might not be able to finish their accounting studies."
A Commitment to the Future
In an industry that has gone through many changes, this endowed scholarship serves to help educate future accounting leaders who can make way for innovation and embrace change.
Today's accounting students have a broad array of exciting opportunities. With increased automation, the profession is seeking accounting graduates who can ably serve clients and who have the potential to develop into strategic thought partners with clients and other professionals.
"The School of Management is deeply grateful for this gift from Dom and Leona Tarantino," says Dean Elizabeth Davis. "This gift will recognize the superior academic performance of accounting students during their undergraduate life at the School of Management. Finally, the gift will also recognize students who come from our local community, thereby reinvesting in and maintaining a focus on building the business ecosystem in San Francisco."
The university will choose the annual recipients of the scholarship, which is for junior and seniors who are accounting majors, with a focus on students who are graduates of San Francisco high schools. They should have a GPA of 3.5 or higher.
A Unique USF Story
Before graduation, Dominic Tarantino was offered a job with Price Waterhouse & Co., one of the original Big Eight accounting firms. An ROTC student, he received his commission as a 2nd Lieutenant upon graduation and was headed for active duty. Nevertheless, PW held a job for him until he fulfilled his commitment.
The Tarantinos married after graduation at Saints Peter and Paul Church in San Francisco with the Rev. John McIntosh, S.J., then a dean at USF, officiating. In 1955, the couple headed for Virginia where he attended Transportation Officer's School at Fort Eustis. They were then transferred to Germany to serve for nearly two years at the beginning of the Cold War.
Returning home, Mr. Tarantino went to work for Price Waterhouse and remained there until he retired in 1998, when PW merged with Coopers and Lybrand to form PwC.
At PW he pursued its emerging tax specialty and in 1975, the firm transferred him to its New York office, and the Tarantinos would not return home until many years after his retirement. In 1988, he became managing partner of PW-US, and in 1995, chairman of the PW World Organization. Throughout this period, Mr. Tarantino logged many thousands of air miles to fulfill his deep continuing commitments at USF.
"When you are all in for USF, that's what you do," he says.
"I feel close to USF for a variety of reasons but importantly because it prepared me to enter a profession that I really enjoyed," he adds. His favorite professor at USF, Ken Young, counseled him to consider PW. "He was someone you could speak to about your career, " Mr. Tarantino says. "It is an important moment when you get that kind of advice.
Today, the Tarantinos have three children: Rob, Steve, and Leanne, a USF alumna, and five grandchildren whose activities are a "principal focus for us these days," they say.
They were at the university during a remarkable time, entering when the '51 Dons football team was making headlines. And their Class of 1954 graduated as Bill Russell and the basketball team were heading to the NCAA championships.
USF remains close to the couple's hearts. "We made friendships lasting to this day," Mrs. Tarantino says. "USF has guided us on how we have lived our lives. We have a deep feeling for USF and Jesuit education."
This gift was made in support of Changing the World from Here: Campaign for the University of San Francisco.