Giving
$50,000 Investment Builds Financial Support for USF Students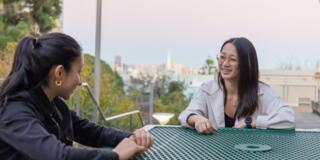 According to Vivien Wang, one of the founding board members and Advisory Board Chair Emeritus of USF's China Business Studies Initiative (CBSI), this is a crucial time for higher education institutions to create more financial resources and opportunities for their students. Wang is leading the charge after making a recent $50,000 investment into the Vivien Wang International Student Ambassador Fund, a new fund.
Her gift will provide scholarship support to undergraduate School of Management students in the International Student Ambassador Program (ISAP), with a preference for students from underrepresented populations. These scholarship recipients will receive funding for global academic immersions, conferences, internships, and many other unique engagement opportunities within ISAP. 
Many USF students have benefited from the ISAP program over the past few years, including Nikolaus Jacobs '19, an ISAP alumnus. After graduating from USF, Jacobs went on to work for Google Ireland and will soon begin a new role as the team lead for NAX Group, a top finance, technology, and innovation company.
"ISAP is a fantastic program that brings students together who aspire to go the extra mile and change the world in a meaningful way. ISAP helped me to understand the importance of stakeholder value creation by engaging with an incredible community of business leaders, companies, professors, and, more importantly, other students," Jacobs said.  
Xiaohua Yang, the founding director of CBSI, shared, "It is critical for CBSI to address equity, diversity, and inclusion in our International Student Ambassador Program and to provide our underrepresented [student populations, including those who identify as] African American or Black identified, Latinx, Asian, and Pacific Islander, with equal opportunities to become emerging business leaders."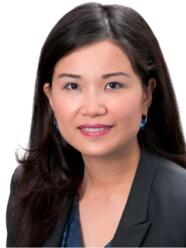 "Vivien Wang, as our founding advisory board member and chair emeritus, has a keen awareness of what makes this group of ISAP participants successful. [The] Vivien Wang International Student Ambassador Fund is a timely scholarship to inspire our underrepresented USF students to Change the World From Here through CBSI," Yang added.
Seeing Herself in Today's Students
Long before joining the university community here in San Francisco, Wang grew up in Shanghai. After moving to the United States for college, Wang joined Deloitte early into her career and now serves as a partner within the organization. In her current role, she manages a fast-growing United States inbound tax services practice for investors from the greater China area and Asia.
As a CBSI board member, Wang stands alongside a team of other accomplished business leaders who are committed to helping USF students build strong relationships in the United States, China, and across the globe. This work will aid USF's School of Management for years to come. 
Wang's investment will take those efforts even further. She hopes that her gift will help current and future students gain access to the kind of opportunities that were afforded to her throughout her career. 
Planting Seeds of Possibility
Wang asserted that the true power of her gift is far more centered around her belief in students and their potential. 
"With this fund, I hope that students who may not have thought international travel or immersion was possible can now see themselves taking advantage of these opportunities," Wang shared. 
Wang continued on to state, "I hope this will encourage others to continue helping diverse communities, specifically those in need. USF is the first school established in San Francisco and is iconic in the Bay Area. We all have a duty to invest in the future, and carry on an important legacy for the benefit of those that follow us."
This gift was made as part of Changing the World From Here: Campaign for the University of San Francisco. To join Vivien Wang, consider making a gift to the China Business Studies Initiative