Equipped to Lead and Succeed
Investing in Character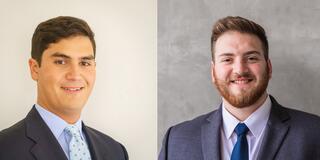 Through USF's Alumni Mentor Program, Alex Townsend '21 uses his experience in the finance industry to guide Lucus Ostroff '23 on his path toward professional and personal success.
In 2013, the University of San Francisco's Alumni Mentor Program was created in response to a rapidly growing LinkedIn group called Dons Helping Dons. What used to be a webpage soon became a community of over 3,000 alumni, recent graduates, and current students, encouraging connections among all levels of professional experience. Lucus Ostroff '23, a transfer student to USF's School of Management, and Alex Townsend '21, a recent graduate of USF's School of Management Honors Program, met through the university's Alumni Mentor Program in fall 2021.
Under the umbrella of NetworkUSF, a social networking hub for USF students and alumni to connect, the Alumni Mentor Program aims to match graduates and students with similar professional pursuits.
With Townsend's professional guidance Ostroff was able to attain an internship at Capright, a commercial real estate valuation and consulting services firm. This was only a stepping stone towards success for this duo.
Capitalizing on Strengths
Townsend, an Advisory Associate at KPMG US, an accounting firm in San Francisco, has an extensive background in data analytics and finance focused roles. He credits these opportunities to his time as treasurer of the Phi Delta Theta fraternity chapter and the professional experiences he acquired while at USF.
In his role as a fourth-year student intern for USF's Office of Development, Townsend managed the operational side of the Alumni Mentor Program. This work would later encourage him to become a mentor to Ostroff, helping him cultivate new connections and find a profession he was passionate about.
"He is very receptive to suggestions and constructive criticism. Since the beginning, Lucus has been eager to carry out action items which showed me that our mutual trust would make for a very fluid relationship," shared Townsend.
As a transfer student, Ostroff came to USF with coursework that was closely connected to his interests. Having previously built a clientele as a music instructor, he was guided by Townsend to tailor past work experiences towards his new endeavors.
"Coming into the major later than most students meant that I had to quickly pivot my skills and achievements to align with my goals. Meeting with a mentor to discuss my options made my goals seem much more attainable," said Ostroff.
Principles of Growth
Since starting in the program, Ostroff and Townsend have only met virtually through Zoom. However, Townsend notes that partnerships like theirs are flexible enough to foster opportunity for both parties to notice growth.
"With Alex's push, I quickly built up the confidence to apply to several internships within a short period of time," Ostroff said. "Before I knew it, I was seeking out new opportunities and applying to them on my own before landing my first internship."
As Townsend takes on more responsibility at his firm, he looks forward to taking on projects in which he can better instruct people of all backgrounds and skill sets. He believes that programs like AMP, exercise this skill and in turn, mold a community of professionals advocating for one another.
"I think having a helping hand from someone who's already gone through it, is invaluable. I want to be the person I wish I had sought out in my early undergraduate years," said Townsend.
To learn more about how you can get involved with the Alumni Mentor Program, join NetworkUSF.