Alumni
Going Far to Pay it Forward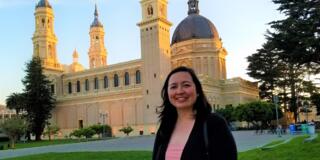 When Janet Roxas '05 was still a teenager, she took a 15 hour flight from her home, the small island nation of Guam, to San Francisco for the first time. Roxas was visiting her brother who had recently graduated from the University of San Francisco, and she quickly fell in love with the idea of attending college in the heart of San Francisco.
"The city sold the university, especially the idea of a campus being central to the city," said Roxas. "The Jesuit school values and the intimate, small learning community resonated with me as I learned more about what USF had to offer."
As she embarked on this new journey over 5,700 miles from home, family and familiarity offered a safety net, but the community and support system Roxas developed during her time at USF anchored her in San Francisco for the long term. Over a decade later, Roxas still resides in the Bay Area.
Throughout her time at USF, Roxas was involved in numerous groups on campus. The most formative experience for Roxas was her involvement in was USF's Hospitality Management program. She credits the professors' hands-on approach to learning in helping to develop her love for the hospitality industry. These same professors helped to lead her to various opportunities in and around campus, nurturing her appreciation for USF and the people who made the university what it is. Roxas was touched by the generosity and care of those who offered to help her while at USF — whether in time, encouragement, or financial support.
Inspired by those who helped her, Roxas joined both the Hospitality Management Alumni and Advisory Board and the Alumni Board of Directors to give back.
"As a student, I was fortunate enough to receive small scholarships from different organizations within hospitality. Even though they were small, they still felt very impactful and important to me," said Roxas. "By giving back today, I can continue the cycle of helping the next generation of students."
Roxas believes that no matter what you do, no matter the size of your actions, everything you do has an effect: "What you do matters and it can create change for good."
With this mindset, Roxas continued to evaluate when and how much she could give back to USF as she moved through her career. Roxas joined the President's Ambassadors society for the first time in 2004. Since that first gift as a recent graduate, Roxas has continued to help however she can, even if that means in small but mighty ways.
"Where I am in my life right now allows me to be a part of giving societies at USF and to be active and engaged in the alumni community. You never know when you might encounter a student who you have helped and you don't know how they will influence your life because of their education. They might create a new company, they might be your coworker," said Roxas. "Remember, it's not about the present but rather how your help today can help them in the future. Whatever amount is right for you to give to USF, is right for USF."
She hopes to continue to volunteer both her time and her money so that she can help lead the next generation of Dons who will change the world from here.
Are you interested in learning more about the President's Ambassadors society and join philanthropists like Roxas in support of the USF community? Consider making a monthly gift of any size in support of Changing the World From Here: Campaign for the University of San Francisco ».