Alumni
Give What You Can For A Better Tomorrow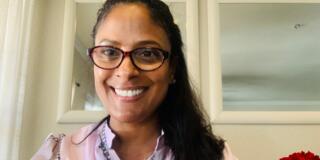 A USF education builds on the empathy and compassion for others that already exists within each of its students. Kibibi Shaw '13, MSOD '15, Black Alumni Society board member and executive assistant at Wilson Sonsini Goodrich & Rosati, continues to build on her legacy as a Double Don through her commitment to service.
The Pledge to Give
For over fifteen years, Shaw has been an active volunteer for organizations like Save the Bay, the Cedars-Sinai "COACH for Kids" program, and the Human Rights Campaign. 
When the pandemic struck, many volunteer organizations were forced to pause and step back from in-person gatherings, so Shaw had to reevaluate how she could effectively serve others in her community. 
"I looked at my budget and said, even though I'm a single mom [with] three daughters, service is important to me. Volunteering is important to me. Let me look at my budget because if I can't give time, I can give money," Shaw said.  
Shortly after, Shaw began donating monthly recurring gifts to the university and facilitating support to integral programs like the Black Achievement Success and Engagement initiative. 
Shaw emphasized that her motivation to make these contributions was inspired by the opportunities that USF made available to her throughout her college career. She hopes that her gifts, regardless of their monetary value, are able to impact current and future students and give them the tools to succeed. 
Building a Foundation at Home 
USF first caught Shaw's attention during high school. Shaw stayed at the Hilltop campus over the summer through a program called Upward Bound, and instantly fell in love. 
As a fifth-generation San Franciscan and Catholic school student, expanding her roots at home and guiding her path toward USF felt instinctive.  
In the years since graduation, Shaw has always felt fond gratitude for the lessons and experiences the university imparted to her, but she also recognized areas the university could improve.  
Locating Opportunities for Engagement
During her time in graduate school, Black students made up around 3% of the student body population. After graduating, Shaw took action in response to these numbers by reconnecting with members of the USF community and seeking out ways to create change and establish increased support for students of color at the university. 
Even after accepting a job offer in southern California a few years ago, Shaw took the initiative to volunteer for the university's Los Angeles regional council and the Southern California Leadership Summit. 
Since moving back to San Francisco, she has been an engaged member of the Black Alumni Society as a fundraising chair and key contributor to the Membership Committee.  
"Whatever they ask me to do at USF, I do it because I really want more people like me — who are people of color, who are Double Dons, and who really want to serve and give back — [to help] get these babies to college. Representation is important, so if I'm representing in any positive way I'll do it," Shaw stated. 
A Powerful Sense of Community 
Even now, during these tumultuous times that have created so much distance between us, Shaw remains in close contact with many of her professors and fellow alumni. 
These longstanding relationships prove that USF is a home for bonds that transcend far beyond graduation. For Shaw, the most trying of times make room for the best opportunities. Whether it is by volunteering time or donating money, there are many ways for alumni to keep their lifelong connections going strong. 
To her beloved community, Shaw stated, "I think, more than a year into the pandemic, we've all figured out really creative ways to stay in touch with each other. So, stay connected. Stay hopeful. Stay healthy. Stay safe." 
To join USF alumni like Shaw who are finding ways to support the university community, consider making a gift in support of the Black Achievement Success and Engagement Initiative and to Changing the World From Here: Campaign for the University of San Francisco.