Engaged Learning
Faculty Spotlight: Matt Meister
Part of a series of getting to know new professors in the School of Management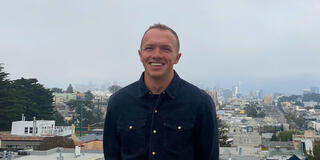 The assistant professor of marketing talks about living in the moment, becoming a Don, and the history of the potato.
Why did you choose to work at USF?
I was really impressed by the caliber and care of people at USF first and foremost. It's also great to teach in an important, super relevant program.
What is your favorite place in San Francisco?
My favorite place in San Francisco is Fort Mason. Granted, I've yet to explore much so far, but I love the waterfront and mix of old and new there.
What advice do you have for incoming students?
My advice for new students is to appreciate the moment you are in. It is very cliche to say, but you'll never have another time in your life where you meet more lifelong friends for the first time, where you learn more, and where you grow more as a person. It's an incredibly fun time!
What are you looking forward to doing on campus this year?
I am looking forward to becoming a Don! I always try to ingratiate myself in whatever community I live and work in, so I am looking forward to finding out what that means at USF.
What is one book you would recommend?
One book I would recommend is "1493" by Charles C Mann. The book is about the interaction between the Old and New worlds that began in 1492. It's not really a history book, not really a science book, but a bit of both. It gave me a true appreciation for this land we live on, and the long history of people living on it. It also contains a surprisingly interesting history of the potato.
What has been your most memorable concert?
The most memorable concert I have ever been to was Dead and Company in Boulder, Colorado on June 18, 2022. Far and away the best Dead show I have ever been to, and in an incredible setting.