Engaged Learning
Faculty Spotlight: Mana Azarm
Part of a series of getting to know new professors in the School of Management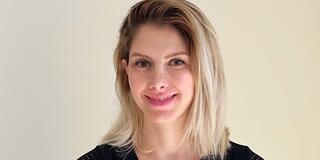 The assistant professor talks about Golden Gate Park, design, and building relationships.
Why did you choose to work at USF?
USF is well located in the epicentre of technology and business. This can provide a distinct advantage for fostering robust industry-academia collaborations, which in turn enriches the learning experiences of our students. The proximity to tech and business hubs offers unparalleled opportunities for networking, internships, and access to cutting-edge resources. Plus, the allure of USF for me lies in its excellent Business Analytics program, which resonated perfectly with both my educational background and professional expertise.
What is your favorite place in San Francisco?
My favorite place in San Francisco is the Golden Gate Park area. It's beautiful, especially when it rains or gets foggy, as the air carries the pleasant scent of sequoia trees and other vegetation. Moreover, the area offers a concentration of fantastic activities like the Academy of Sciences, the 
What advice do you have for incoming students?
Get involved. Seize any opportunity to learn by doing and/or with others. Grow your network and build relationships. Learn in any way shape or form.
What are you looking forward to doing on campus this year?
I'm looking forward to getting to know my students and other faculty and employees. I'm also looking forward to exploring some experimental education techniques and implementing them in class.
What was your first job as a teenager?
My first job as a teenager was graphic design of logos/ promotional content using Photoshop. I did not have any formal art education, but loved playing around with the design apps on my computer.
What is one book you would recommend?
A book I recommend is "An Astronaut's Guide to Life on Earth" by Chris Hadfield (a Canadian astronaut!). I loved reading about his determination and focus on one goal from early on, and how he could weave his various experiences into his career as an astronaut. I especially recommend this book to the younger ones and their parents. A good lesson I learned from his book was to be quite pessimistic but not fearful; to be ready to overcome the worst-case scenario.
What is your favorite app on your phone?
My favorite app on my phone is NYTimes — both the news articles and the cooking one.