Engaged Learning
Creating Companies That Care
Students learn to build profitable and ethical businesses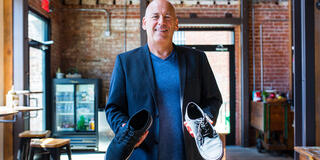 Serial entrepreneur Professor David Batstone teaches students how to create compassionate companies.
Or in business-speak, companies that value the triple bottom line: people, planet, and profit. They pay fair wages, consider their environmental impact, and prioritize social justice.
"Usually when people hear 'social entrepreneurship,' they think you're doing charity," says Batstone, co-founder of investment firm Just Business, which only backs triple-bottom-line companies. "I'm building businesses. I'm just not building destructive businesses."
Not surprisingly, Batstone's day-to-day business experience makes for invaluable teaching material.
Don't sacrifice your values
"He brings in actual problems that he's working on for students to help solve," says Todd Berry '17, who took Batstone's Entrepreneurial Management and Social Entrepreneurship classes. 
For example, if a company pays higher prices for fairly traded goods or ingredients but wants to remain price competitive with other brands, what should the company do? It's an issue that the companies Batstone works with often face.
"I want my students to understand that you don't have to sacrifice your beliefs about the world you want to live in in order to create a company," he says.
The School of Management entrepreneurship and innovation professor is also co-founder of the health drink Rebbl, sold at Whole Foods; footwear company Z Shoes, sold by retailer All Saints; and Not for Sale, a nonprofit that combats human trafficking. Thanks to an innovative business model, part of the profits from Batstones' companies and the other companies Just Business backs go to Not for Sale, allowing the nonprofit to thrive without depending solely on donations.
"He inspired me to grow and think differently about the world," says Christina Hebets '09, a former student of Batstone's who worked for Not for Sale before co-founding a for-profit company that provides free, early-childhood education to Hispanic children.
Not just a school assignment
Each semester, Batstone asks students to study the operations, strategies, and struggles of socially minded companies like Patagonia or Ben & Jerry's, create case studies based on their findings to present in class, and form teams to dream up their own businesses.
"It's more like his Entrepreneurial Management class is an incubator rather than a class," said Berry, whose team conceptualized a wearable device that uses biosensors to monitor hormone levels in women in order to pinpoint the best time for couples to try and become pregnant.
"Professor Batstone pushed me to make it something real, and not to just treat it as a school assignment," said Berry, who came up with the idea after someone close to him struggled to conceive.
Thanks to that little extra push, Berry and his team raised $1,200 from family, friends, and outside donors and created a functional website. Now the recent graduate is moving forward with the project in real life.
Know someone with a powerful USF story? Let us know! usfnews@usfca.edu | Twitter @usfcanews