Engaged Learning
Community and Connectedness: A Necessary Combo
School of Management student Abeygail Panganiban BS Business Administration '19 was recently awarded the Excellence in Student Leadership Award.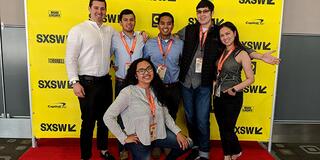 Every year, University of San Francisco Student Leadership and Engagement acknowledges and celebrates nominated groups and individuals that have excelled as leaders within the student organization community.
Bachelor of Science in Business Administration student and president of the Entrepreneur Club Abeygail Panganiban '19 is a finance major and theology minor who recently won the university-wide Excellence in Student Leadership Award.
Panganiban's work mainly focuses on diversity and inclusion, especially for women of color. She emphasized the necessity of including diversity in important conversations regarding industry issues.
(As a leader, I want to) empower students to take part in our industry and inspire them to create the change they want to see and widen the lens...it's more than making money, rather, it's about social impact.
Abeygail Panganiban '19
BS Business Administration
For Panganiban, she resonates a lot with the USF mission statements of changing the world from here through connectedness, as well as changing hearts and minds. "It was nice to receive validation from the community and people that appreciate and align with my values," she said.
As the president of the Entrepreneur Club, or "E-Club," Panganiban has prioritized the growth of the organization. In March, she and six students traveled to Austin, Texas, to attend one of the largest forward-looking conferences in the U.S. – South by Southwest (SXSW).
During the 2016–2017 academic year she organized and supported a number of events that benefited and provided opportunities for her fellow undergraduates and underclassmen. Some of these events included the Meet, Engage, Inspire sessions "to help create community relationships between professors and students;" and the Diversity and Inclusion in Tech Event—"a serious effort to bring an important and current issue of the Tech Industry to USF students so that they were equipped before heading into the workforce."
For Panganiban, her biggest wish is for there to be a business incubator at USF which would be similar to the senior projects but would allow students of all years and majors to participate; the goal would be to "provide more support for all undergraduate students to enroll in a structured process where, in the end, students have polished pitch decks ready for potential investors."
With Panganiban's senior year just around the corner, she reflects on her time in E-Club, which she joined during her freshman year. "I feel like I'm coming full circle," she said, explaining how an important goal for her this upcoming academic year is to continue "providing networking avenues for students," and "making sure that [E-Club is] connecting and communicating with the whole community." She hopes to leave behind a strong legacy for E-Club, and to pass on her leadership role to another thriving student who will be dedicated to the organization's motto: "To ignite and foster the global USF innovators for good."
By Lonny Wysard