San Francisco Advantage
Coding Life-Saving Apps in 48 Hours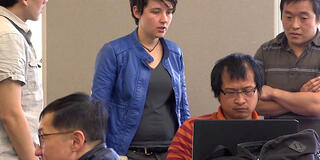 USF Pronoy Saha MBA '99 founds competition to develop apps that improve mental health.
They were given 48 hours and a challenge: to harness the power of technology to improve mental health and save lives.
Nearly 100 participants entered the May 10-11 Health Technology Forum (HTF) Code-a-thon, sponsored by USF and held at McLaren Conference Center on campus. Teams of coders, entrepreneurs, researchers, and mental health professionals were asked to create an app to tackle a serious mental health issue, including Post-Traumatic Stress Disorder and depression.
Tech to improve mental health 
The event was the brainchild of HTF founder Pronoy Saha MBA '99, who believes the Bay Area's vibrant tech industry can lead the nation in using technology to help the nearly 19 percent of Americans who suffer from mental illness. 
"We're just scratching the surface of how mobile technologies can be used to solve problems in mental health," he said, after the code-a-thon. "The last two days have really been phenomenal."
One app screened teenagers for depression; another, a game, improved emotional intelligence among autistic children; a third monitored a patient's suicide risk and notified friends and family if the patient was in danger. 
Winner takes home $15k
A panel of eight judges that included venture capitalists, doctors, and tech industry leaders awarded the winning team $15,000. 
USF's Opinder Bawa, chief information officer and vice president of technology, helped organize the Code-a-thon and served as a judge.
San Francisco General Hospital will beta test their app, designed to help pediatricians screen patients for anxiety and depression.
Know someone with a powerful USF story? Let us know! usfnews@usfca.edu | Twitter @usfcanews