Equipped to Lead and Succeed
A Change of Art
Once stuck in a corporate rut, Jonathan Rachman '93 has made a new career out of creativity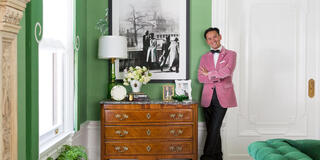 Twenty-eight years ago, Jonathan Rachman was on the verge of dropping out of USF for lack of tuition money. Today, he's an interior designer to the stars.
So you struggled financially?
Yes. I was at USF studying business when my family could no longer afford my tuition, so my accounting professor, Jenning Hansen, nominated me for a scholarship. If not for him, I wouldn't have graduated.
How did you go from corporate business to interior design?
First I switched from being the director of sales, marketing, and operations at a local company called Just Desserts to being the chief operating officer at a mental health nonprofit up in Portland, Oregon. But my nonprofit job still wasn't creative, and it finally dawned on me that I wanted my creativity to be a career, so I quit and opened my own flower shop on Sacramento Street in San Francisco. One day an employee of [fashion designer] Marc Jacobs pops in, from out of the blue, and says, "Marc wants you to do flowers for his flagship store."
Seriously?
I know, right? Life is like a parking spot; you have to be in the right place at the right time. My clientele expanded and I ended up doing the flowers for the United Nations' 60th anniversary celebration in San Francisco. Then people started asking me to decorate the venues for their parties, and eventually to design their homes. It was all through word of mouth.
How has your USF education helped with your career?
Without USF, I wouldn't be where I am. And because of USF, I knew the ins and outs of running a business, like my flower shop.
What are you up to these days?
I own my own retail store, J. Rachman, on Market Street across from Zuni Cafe. I also publish a design magazine called Di Sini Di Sana, which means "here and there" in Indonesian. And I design for clients all over the world — Oprah, Madonna, Sarah Jessica Parker. I was born in Indonesia so I do a lot of work there, in homes, villas, and hotels. I design the exteriors, interiors, logos, worker uniforms, letterhead. A benefit of never receiving a formal design education is that I break all kinds of rules.