Passion for Justice
Business, Ethics, and Social Responsibility
How alumna Wanjun Sheng MBA '17 was honored by President Barack Obama for her community service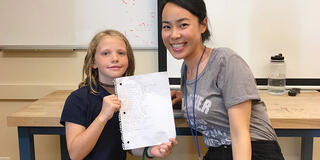 Wanjun Sheng MBA '17 sometimes broke into tears during her first few weeks at USF. The MBA student had moved from China and struggled with homesickness as she faced language and cultural differences, as well as a different teaching style from what she knew back home.
It was a USF business class about social responsibility that began to draw her out of her shell and help her make connections as a volunteer — something she'd never tried before. It was the first of many firsts. It put her on a path to becoming a student ambassador; being elected president of USF's International Students Club; being honored with the Dean's Outstanding Public Service Award from the School of Management; and winning the President's Volunteer Service Award from President Barack Obama. 
What cultural differences surprised you when you arrived?
The culture I'm from is quite homogenous and not that outgoing. USF taught me to embrace different cultures. This enabled me to learn different perspectives and understand how people think in different ways. It really helped me to respect diversity. I now know about different lifestyles and cultures and that it is okay to be different.
How were classes different at USF than in China?
I was used to a more conservative teaching style in China, where instructors taught and students listened. At USF, I began to realize that class participation mattered. Not only did I have to do a lot of preparation before class in order to ask meaningful questions but I also had to have the courage in class to speak up. 
How did your Ethics and Social Responsibility class inspire you?
Learning about social responsibility, innovation, and ethics in a business class was eye-opening for me. All the learnings provoked my deeper thinking of the role I'm playing in the society and a bigger role I want to play. To experience how people here give back to society, I spent some time volunteering at the San Francisco Marin Food Bank. I found it impressive that many parents took their children to volunteer there as part of their early education. It really inspired me to continue to contribute and be part of something bigger than myself.
Your volunteerism was recognized by former President Barack Obama?
When I did start to get involved, I did it in a big way. After having done around 800 to 1,000 hours of volunteer work at the nonprofit organization Kiva, I was recognized by then President Obama with the President's Volunteer Service Award. This award was part of a White House program that recognizes individuals that have contributed to society over a cumulative number of hours, for around 12 months. Along with the ultimate honor of presidential recognition, I received a personalized certificate and a congratulatory letter from President Obama, which was pretty special.  
Tell me a little bit about your volunteer work at Kiva.
Kiva is a San Francisco-based nonprofit that provides loans to small businesses run by people in underserved communities. I worked there for a year and a half. What I love most about Kiva is how it teaches people to enable themselves to succeed. I used skills I learned in my MBA program to test and measure the efficacy of Kiva's different loan programs, and to forecast future demand. I shared what I learned at Kiva with multiple immigrant business bureaus, community centers, and public Asian organizations so they could take those lessons back to China and lower poverty for millions of people. 
What are you doing today?
After graduating with honors, I took a job at Gap as a senior planning and marketing analyst. I do data modeling and marketing strategy. I also participate in the Boys and Girls Club at Gap, helping children with their homework and mentoring them.
Know someone with a powerful USF story? Let us know! usfnews@usfca.edu Twitter @usfcanews