Equipped to Lead and Succeed
What is Philanthropy?
Image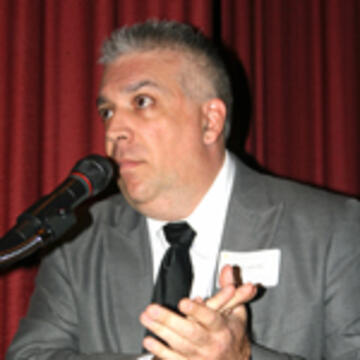 Philanthropy: etymologically, it stems from the Greek philanthropos, meaning "man-loving" or "the love of humanity." But what does it mean in a practical sense, in this day and age, in the lives of people who volunteer, of people who give to or receive charity? That's exactly what filmmaker Salvatore Alaimo wanted to explore in his most recent film, fittingly entitled "What Is Philanthropy?"
School of Management alumni enjoyed a free screening of the documentary in early October during the "A Night at the Movies" event. The screening took place in the Delancey Street Foundation, which boasts a beautiful classic movie theater with the kind of character that is rare nowadays. Before the screening, alumni had ample chance to mingle with each other and with the filmmaker, Salvatore Alaimo, who holds a Ph.D. in Philanthropic Studies from Indiana University – Purdue University at Indianapolis and has been interested in the concept of philanthropy, volunteering and giving his whole life.
Image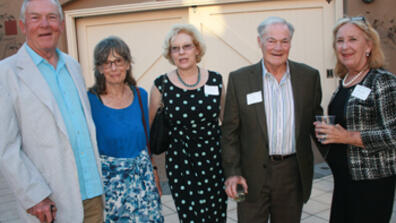 The School of Management's dean, Elizabeth Davis, said, "USF wants to make a difference by producing graduates who take on true leadership roles in public, private and nonprofit sectors – I like to refer to these engaged graduates as stakeholders. Tonight, for me, is all about creating greater stakeholder value through philanthropy. In Jesuit terms, this means producing conscious leaders. USF and the School of Management really have a deep commitment to this. Tonight, we're asking for your stakeholder engagement, and we're asking you to think about philanthropy in view of this film, and to think about how you give back. USF is committed to advancing this conversation about leadership, philanthropy, and stakeholder engagement. We're interested in truly changing the world from here."
The documentary engaged viewers to consider philanthropy and all it entails. Alaimo asked passers-by on the street, "What is Philanthropy?" and the variety of answers was fascinating, and sometimes funny – one person mistakenly believed it to be a synonym for 'acting.' In an extremely inclusive series of interviews with philanthropists, social activists, social entrepreneurs and casual volunteers, it became clear that philanthropic motivations differ greatly per person. Some people simply want to make a difference, and leave a better world for a next generation. Other people try to turn their grief or anger into a force for something good, such as Sorrel King, a mother whose young daughter, Josie, died as a result of medical errors. King became a patient safety advocate, and has spent the last thirteen years preventing medical errors by uniting healthcare providers and consumers and establishing innovative safety programs with her foundation. Grieving mothers of stillborn babies can donate their breast milk to one of many human milk banks in North America, designed to provide safe and nutritious mothers' milk to babies in need. A group of pilots founded Angel Flight, which flies patients to urgently needed medical care in small planes. Civil rights activist Dr. William G. Anderson marched and worked closely with Dr. Martin Luther King, Jr. and still battles inequality. "Don't run away from the opportunity to make a difference," said Dr. Anderson when asked what he would tell people who are thinking about becoming more socially active.
Dr. Marco Tavanti, director of USF's Master of Nonprofit Administration program, said "The question we're really asking is not just what is philanthropy, but what can philanthropy become? Are our current philanthropic methods the best ways to solve chronic poverty, global health disparity, climate change, forced displacement, human trafficking, the digital divide?" He encouraged the audience not to settle too deeply into the inner workings of a system, but to continuously ask ourselves how we can continue to improve it.
The documentary also highlighted elements of philanthropy that people struggle with, including a concept filmmaker Salvatore Alaimo likes to call pathological altruism. "When people care only about giving, and are not involved with how that money is going to be spent, that is a problem," he said. "Different organizations have different approaches, methods, tactics, and overhead financials, and it's important to support the systems you believe in the most." He named the 2010 earthquake in Haiti as an example. After the earthquake, millions of dollars were donated from all over the world for the purposes of relief, but after the first months of surviving the post-quake chaos, what the Haitian people really needed was rebuilding efforts for new infrastructure. "It's important to differentiate between a crisis and a chronic problem," said Alaimo. "Crises need relief – help, and fast. But chronic problems need well thought-out, sustainable solutions. What's the point of millions of dollars of relief donations when nobody is accessing those funds to start rebuilding houses and roads? Haiti is still largely in ruins. It needs infrastructure. And people who are interested in giving money need to consider accountability as a factor in that process, and asking questions about outcomes."
Image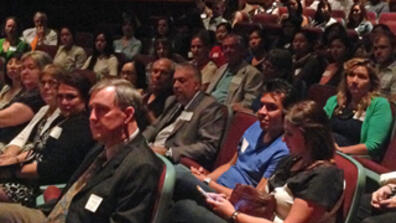 Dr. Tavanti continued, "Let's transform and extend philanthropia, the love of humanity, to philoxenia – the love of strangers. And also cosmophilia – the love of the world at large, of which the Jesuits have a very strong tradition. And let's remember that philanthropy can no longer be an elective in our social and global responsibilities. Turn it into a staple, and that is how we will change the world from here.""We're still asking this question, What is Philanthropy?" said Dr. Alaimo. "Maybe mankind will always be asking it. It's a concept that is largely misunderstood, an elusive topic, and it's the impetus for why I made the film."