Equipped to Lead and Succeed
Venture Capitalists for a Day
It all starts with a seed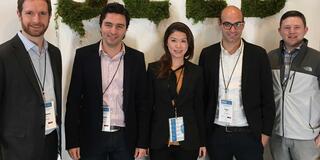 My most recent adventure at USF was with a team of fellow MBA students: Camilo Puentes Iregui (MBA '17), Vicki Ye Jing (MBA '16), Colin McCune (MBA '17), and Andrew Schonlau (MBA '16). We had been working for two months to get ready for the regional phase of the Venture Capital Investment Competition, to be held on Feb. 20 at the San Francisco headquarters of First Round Capital.
With five other top West Coast MBA teams, our USF MBA team competed in a simulation where teams of MBA students had to evaluate and execute investments in companies, seeking venture money, and then negotiate the deal with partners of centure capital (VC) firms and with the entrepreneurs to reach a deal. Everything is real, except that we were not actually investing. Instead, we were being evaluated by the VC partners (the judges) on the strategy behind our investment decisions.
Over two months, we learned how to execute due diligence, write term sheets, present to partners, and negotiate with entrepreneurs. We worked with VCs and entrepreneurs who came during our training to mentor our preparation, and finally we made it. It was without doubt a transforming experience for all of us.
On Thursday at 5 p.m., we received the business plans of three potential investment opportunities, and we were off. Coffee and bagels kicked off the day on Friday when we met as a team, locking ourselves in the conference room of a friend's office, away from the world, but enjoying a stunning (sometime very distracting) view of the Bay Bridge — exactly like many VC offices in San Francisco. On Saturday, it was time to actually put into practice what we have learned about VC and to test our strategies in competition.
Did we win? No.
But our learning was unbelievable — one of those experiences that changes you for life, providing invaluable perspective on how to be professionally ready to negotiate a deal.
It was one of those failures that tells you...
Thank God I tried and failed. Now I know what it means. Next time I'll know what to do differently. - Ygor Scarcia
Now it's time to train next year's team!
A special thanks to Prof. Patrick O'Regan Jr., USF adjunct faculty, mentor, advisor, and friend of this amazing team of MBAs.
By Ygor Scarcia, Student, MBA '16