Equipped to Lead and Succeed
Venture Capitalists' Confidence Surges Higher in Q1 New USF Report Analyzes VC Climate
The Silicon Valley Venture Capitalist Confidence Index® for the first quarter of 2012, based on a March 2012 survey of 34 San Francisco Bay Area venture capitalists, registered 3.79 on a 5 point scale (with 5 indicating high confidence and 1 indicating low confidence.) This quarter's index rose significantly from the previous quarter's reading of 3.27 and marks a major inflection point upward in sentiment from the previous three quarters.
This is the 33rd consecutive quarterly survey and report providing unique quantitative and qualitative trend data and analysis on the confidence of Silicon Valley VCs in the future high-growth entrepreneurial environment. Mark Cannice, professor of entrepreneurship and innovation at the University of San Francisco (USF) School of Management, authors the report each quarter.
Image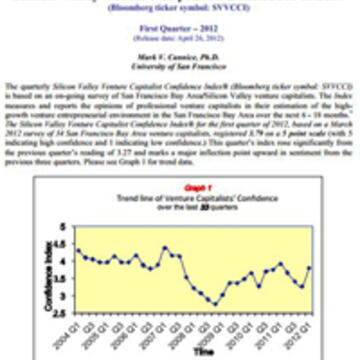 In the report, Cannice indicates that the "Venture capitalists that responded to the Q1 survey pointed to a more welcoming public financial market that is providing more liquidity opportunities for their portfolio firms, along with technology convergence in mobility, cloud, and social platforms which is fostering the development of a wide range of entrepreneurial endeavors." For example, Sandy Miller of Institutional Venture Partners noted, "The IPO market has improved for venture-backed technology companies. This tends to be a leading indicator of an overall better exit environment." Bob Ackerman of Allegis Capital contended, "The innovation throttle in Silicon Valley is running full open. There is tremendous creative development underway in mobile, cloud computing, social media, and security -- all at the same time. In the future, we will look back on this period of time as one of the golden ages of innovation."
Professor Cannice concluded the report stating, "New growth areas beyond cloud, social, and mobile (e.g. big data analytics) may also be sparking longer-term enthusiasm in some sectors. As the upcoming Facebook IPO unleashes a new wave of excitement and liquidity in the financial markets, the balance of 2012 appears promising."
In related research on China Venture Capitalist sentiment, Cannice and his co-author, Ling Ding, found confidence among VCs in China also shot higher in Q1 bouncing back strongly from a historic low in Q4.