Equipped to Lead and Succeed
USF's Hospitality Management Association Brings a Millennial Perspective to BABTA
Image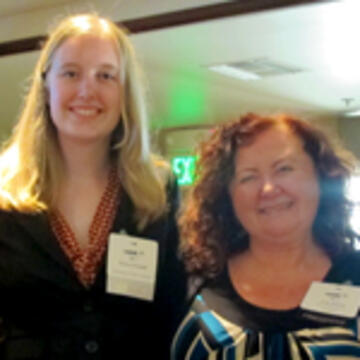 On April 16, 2014, Kathleen Leo, the current President of the Hospitality Management Association (HMA) and myself were invited as USF Hospitality Management students to present to the Bay Area Business Travel Association (BABTA) about our trip to the International Hotel, Motel, and Restaurant Show (IHMRS) in New York City.
BABTA is comprised of local professionals who strive to increase awareness of travel issues in the Bay Area through networking, education, and community involvement. Members include corporate travel managers as well as suppliers and vendors from the hospitality industry.
Kathleen and I were asked to share a student perspective on travel planning—what the approval process entails, the involvement of the University, as well as how suppliers and vendors interacted with us throughout the trip. The professionals at BABTA were especially interested in our perspective on travel management as a part of the millennial generation.
Each November, the HMA travels to New York for the IHMRS. While there, students attend informative workshops and networking sessions, tour hotel properties such as The Plaza and The Intercontinental New York Barclay Hotel, and take in the sights and sounds of New York City.
Image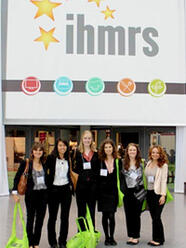 As an underclassman in the Department of Hospitality Management, there was nothing I looked forward to more than attending the IHMRS. Over the past two years, I worked extremely hard to be an involved member of HMA in order to attend. I first traveled to the IHMRS in November 2012 as the President of the HMA. However, it was not until I actually planned the trip last fall that I truly appreciated the intricacies of group travel planning.
The BABTA meeting was held at the Waterfront Hotel Oakland. Judy Emma, the President of BABTA, invited us to sit at the President's table. Kathleen and I had a wonderful time presenting on our trip to New York with BABTA. In our presentation, Kathleen and I specifically addressed:
The Travel Request Form required by USF to attend a conference.
The process to receive funding from USF, including the application, preparation of a budget, and presentation in front of the ASUSF Finance Committee.
Utilizing our Peer Advisor at USF to book the trip similar to a corporate travel manager.
Treatment from vendors, including those that ignored us, due to our status as an educational registrant.
Suggestions to improve the process for a USF student organization to travel, including a centralized travel center and streamlined paperwork.
My favorite part of the evening, however, was answering the questions that followed our presentation. The questions ranged from "What do you look for in a hotel when you travel?" to "How can we find out what you want from a hospitality experience before you arrive at our hotel or restaurant?"
It was fun for Kathleen and myself to share our personal travel experiences and our opinions on our generation and the future of travel. Kathleen believes that "attending IHMRS in New York followed by presenting to BABTA has been a once-in-a-lifetime opportunity, allowing us to explore and network outside of the classroom and USF campus, and showcase what kind of strong future industry leaders are coming from the USF Hospitality Management Program."
I believe that our invitation to BABTA was an excellent opportunity to promote the Department of Hospitality Management at USF and to build lasting connections with the Bay Area travel community. Not only did we develop our public-speaking skills, but also enjoyed networking with professionals in a new area of the hospitality industry. It was a great chance to educate local professionals about our extracurricular activities as hospitality students.
Michelle Millar, a Department of Hospitality Management professor who accompanied us to BABTA, stated "It was special to see Kathleen and Felicia present to BABTA because they are our future hospitality leaders, not to mention the faces of the USF Department of Hospitality Management! They made a connection between our university, those within their generation (the Millennials), and those working in local tourism industries. It was also wonderful to see the professional manner in which they presented, and to see the audience's warm welcome of them. Felicia and Kathleen did USF proud!"
(Upon graduation in May 2014, Felicia will be working with Grant Thornton LLP in Seattle, Washington and Kathleen will be at the Four Seasons in Boston, Massachusetts)
Know someone with a powerful USF story? Let us know! usfnews@usfca.edu | Twitter @usfca