Equipped to Lead and Succeed
USF Recognizes Casa Sanchez and Diamonds in the Rough with 2012 Gellert Family Business Award
Image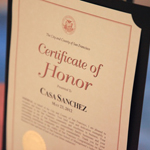 The University of San Francisco School of Business and Management's Gellert Family Business Center is proud to announce Casa Sanchez and Diamonds in the Rough Daycare as the recipients of its 2012 Gellert Family Business Award. The annual award recognizes extraordinary family business achievement and community service, and is made possible by a generous gift from The Carl Gellert and Celia Berta Gellert Foundation. Casa Sanchez and Diamonds in the Rough will be formally honored on during a dinner program on Wed., May 23 from 5:30-8:30 p.m. at the University of San Francisco's Lone Mountain campus.
Both Diamonds in the Rough and Casa Sanchez exemplify a commitment to community and business success in the Bay Area and beyond. Diamonds in the Rough is a children's daycare that has been in business for 12 years. Owned and operated by Brenda Smith, Diamonds in the Rough specializes in children from infancy to three years of age, and specializes in children with asthma, diabetes, seizures, and other special needs. Diamonds in the Rough is a play-based, hands-on learning environment that builds a strong foundation for children.
"It is such a wonderful feeling to be recognized for doing something you love," said Brenda Smith, founder and director of Diamonds in the Rough Daycare. "We feel privileged to serve families in our community by providing a safe, nurturing environment for children to flourish and grow. Because education is a vital part of what we do, we are so honored to receive this award from USF."
Established in 1924, Casa Sanchez is a Mexican restaurant by day and a lounge by night featuring live music, drinks, and authentic Mexican cuisine. Originally focused on stone-ground tortillas, Casa Sanchez ran the very first mechanized tortilla factory in Northern California. As time passed, Casa Sanchez established itself as a Mission District institution, becoming well known for its chips and salsas, which are now widely sold at supermarkets. The business is currently owned and managed by fourth generation family members, and succession of the fifth generation has been established.
"The Sanchez family is humbled to be recognized by the University of San Francisco, especially with this family business award," said Martha Sanchez, great great granddaughter of the original founders who now helps run Casa Sanchez. "Having a strong work ethic is first and foremost when operating a family business, and we are delighted to be recognized for that hard work."
In addition to receiving the award, Diamonds in the Rough and Casa Sanchez will benefit from additional education, marketing, succession planning, and technical analytics assistance that USF offers to its Gellert awardees. The Gellert Family Business Center at USF provides family-owned businesses with useful information on business trends, research, and best practices. The center pairs awardees with USF faculty who are doing research on such issues as social media and business analytics, as well as provides USF students with an opportunity to work with family-owned and operated businesses.
"Diamonds in the Rough and Casa Sanchez show us how successful family businesses serve as the cornerstones of communities," said Monika Hudson, assistant professor in USF's School of Management and director of the Gellert Family Business Center. "They are intelligent entrepreneurs who approach business with excellence and a deep commitment to our community."
Media Citations:
De tortillas a restaurante mexicano
El Mensajero
By Marcela Gray
5/19/12
Casa Sanchez handed down by generations
San Francisco Business Times
By Hannah Albarazi
5/25/2012