Equipped to Lead and Succeed
USF Alumna Sabeen Ali, an Influential Leader in Tech
The University of San Francisco's (USF) School of Management is proud to congratulate alumna Sabeen Ali, Master of Science in Organizational Development (MSOD),'09 co-founder and CEO of AngelHack, on being named to the inaugural class of "100 Influential Leaders" by The Association to Advance Collegiate Schools of Business (AACSB). AACSB is the top accreditation body for business schools worldwide.
"This is an amazing honor, to be chosen as the sole representative from USF for the AACSB Influential Leaders Challenge," Ali said. "Being recognized for an innovative mindset, entrepreneurial spirit and making an impact in both business and social good communities is a great privilege and one that I am honored to accept."
AngelHack is the world's largest and most diverse global hacker community. The female-owned company helps drive open innovation of tech products, platforms and brands with extraordinary smarts, scale and speed via tech education, marketing and hackathons.
Ali's influence as a leader in the tech industry is evident during her TEDx Talk where she talks about how technology is a driver for equality and opportunity.
"Technology has been such a powerful tool. It's helped me break down a long list of racial, cultural and class barriers. Imagine what it could do to all of the countless little girls living all over the world with less," Ali said.

Ali is part of the small but growing community of female programmers around the world.

The world needs more female coders. Technology doesn't discriminate, anyone can code."
AngelHack's mission is to eliminate the shortage of programmers through outreach into underserved communities by hosting global Hackathons.
"Computer programmers are in high demand but short supply. By the year 2020 there will be 1.4 million jobs in computer programming," Ali said.
Her education at USF helped inspire Ali to create the set of values embraced by the AngelHack community.
"If you have a vision then the only thing keeping you from accomplishing it is action and USF shows you that everyday single day from small tasks to big tasks," she said. "USF wants you to go out there and be successful."
Ali is particularly keen on interns and employees who come from USF because they already well versed in AngelHack's core values.
"I really do believe anyone has the ability to change the world," Ali said. "No one is too small or too insignificant. You don't have to have a Ph.D. or a government position to create change, anyone can do it."
Not only is Ali inspiring people to change the world from here, but she is also changing the world through code.
By Brandi Licciardo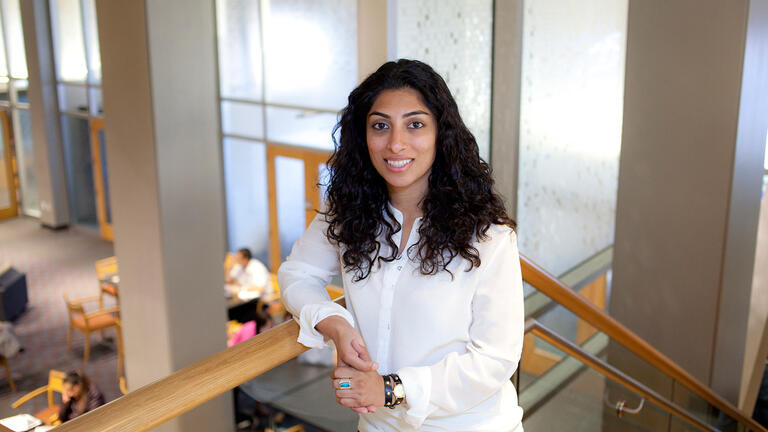 USF Alumna Sabeen Ali, Master of Science in Organization Development