Passion for Justice
Social Equity Leadership Conference 2016: Confronting Inequity in the Bay Area and Beyond
USF hosted this year's annual public administration symposium, highlighting how San Francisco is leading the national dialogue on social equity.
The 15th annual Social Equity Leadership Conference (SELC) was held at the University of San Francisco, marking the first time this premiere National Academy of Public Administration event has convened on the West Coast.
The conference was held over the course of three days from June 1 - 3, and consisted of panels, delicious food and live musical and theatrical entertainment. The panels, presentations and events addressed a range of prevalent societal subjects such as law enforcement, race, class, gender issues, sexuality, technology, housing and government policies.
"My liberation is your liberation," Dr. Mary Wardell-Ghirarduzzi, USF Vice Provost for Diversity Engagement and Community Outreach, said in a passionate speech during the opening remarks that kicked off the conference. She emphasized how now is the time for confrontation, specifically in "systems of inequity." Other speakers such as the Dean of the School of Management, Dr. Elizabeth B. Davis, highlighted the relevance of the conference to Jesuit values.
There also were a number of VIP speakers at the conference such as Lieutenant Governor Gavin Newsom, former Assemblymember Tom Ammiano, Assemblymember Mike Gatto and USF President Paul J. Fitzgerald, S.J. Newsom's keynote speech and Q&A segment had a huge turnout; over 200 people filled up the room to hear him speak about feminism and criminal justice reform. During his presentation, he expressed the deep and essential importance of feminism for social equity, saying that "institutionalized sexism" is a serious issue that must be addressed.
Newsom sprinkled his messages with anecdotes and stories of personal experience that, while sometimes comical, strongly emphasized all of his points. Newsom explained when his two sons and two daughters were born, his daughters were praised as "beautiful;" however, his sons were sent gifts and letters from the offices of the president and vice president of the United States, telling them the world was their oyster and they could be anything they wanted to be. One of his sons even received a onesie that read "Future President."
His anecdote underscored the institutionalized sexism that predominates in politics and the media. "What you read, and what you hear, and what you see is delivered through the limited male perspective," Newsom said. "The media is the message, and it is the messenger. The media creates our consciousness."
At the same time, Newsom explained how everyone benefits from feminism - and how it should be of primary concern not only to women, but to men as well. .
"Be a man," Newsom said. "Some people say those are the three most damaging words in the English language." He emphasized how sexism not only hurts women, but the entirety of a culture: "Our culture does not value what we deem feminine," Newsom said solemnly, listing off classically feminine-deemed traits such as care, compassion and empathy, "the things that get you through life."
As for Newsom's other topics in the keynote panel, he also expressed his involvement in criminal justice reform, emphasizing the irony and injustice behind the monetary bail system, as well as candidly describing the war on drugs as really being "the war on marijuana" and "the war on poor people and people of color."
Other speakers at the conference, such as Ammiano, discussed LGBT issues and social equity. Like Newsom, Ammiano drew from his expertise and experience in government, including his deep political roots in San Francisco. He said that Harvey Milk would always be a hero to him, as he believed in "connecting the dots" in regards to linking discrimination toward the LGBT community to other issues involving discrimination (social class, for example).
One panel entitled Homeless LGBT Youth in a Time of Need surveyed the issues of gentrification and the rejection LGBT people often experience from society, religious communities and even their families. During the panel, a group of USF grad students from the School of Management were invited up to the front of the room to discuss a recent project they completed in providing gender-neutral bathrooms in homeless shelters in the Bay Area. The students explained how their initiative allowed transgender people to feel acknowledged, welcomed and accepted by the shelters - and as a result, would be more willing to seek their help and support.
Another extremely timely topic that was discussed at the conference was the use of force in law enforcement. One of the presenters in the Use of Force! panel was a School of Management alumnus who is now currently in charge of the San Francisco Police Department's Special Operations. "It has been my honor and privilege to serve you," Mikail Ali said, explaining his fondness of the term "peace officers." Overall, he stressed the necessity of minimizing force in policing, and that supervision, leadership and education are all components that can help police serve more effectively.
From discussion-based panels to moving keynote addresses, the three-day event offered a great deal of insight to attendees from the Bay Area and beyond. Social equity advocate, tenured professor and director of USF's business minor program, Dr. Richard Greggory Johnson III coordinated the conference and deemed the level of depth in the presentations to be "incredible."
When it was time for the conference to end, USF President Fitzgerald carried the theme of social equity specifically to transgender students, faculty and staff by closing with the assurance that at USF, "we see the image of the divine in every human person."

By Lonny Wysard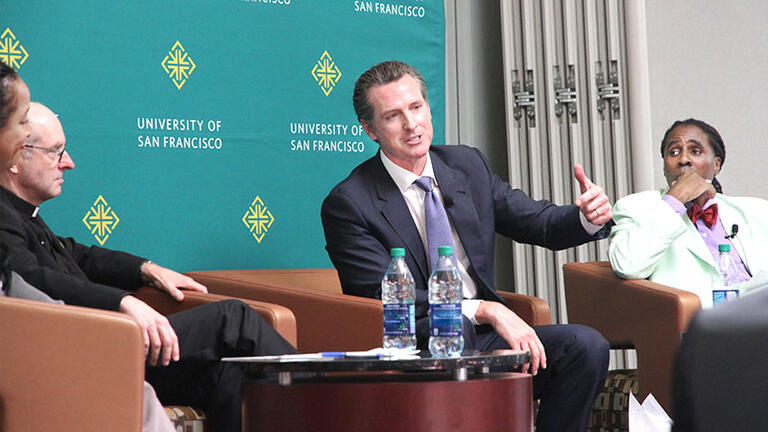 Panel at USF Social Equity Leadership Conference 2016. From left, USF President Paul J. Fitzgerald, Lieutenant Governor Gavin Newsom, USF Professor Richard Greggory Johnson III