Equipped to Lead and Succeed
Lori Bush's "Little Brand of Crazy" Leadership
Former Rodan + Fields CEO Talks to USF about Going from a Startup to the #1 Largest Independent Premium Skincare Brand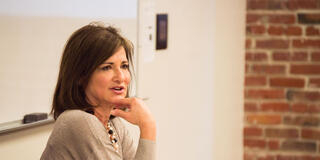 What comes to mind when you hear Nu Skin, Johnson & Johnson, Neutrogena and Rodan + Fields? If your answer isn't Lori Bush, it will be now!
Lori Bush, the recently retired CEO of skincare titan Rodan + Fields, spoke to nearly 30 USF students and faculty on Wednesday, February 10, 2016 at the downtown San Francisco campus. Bush, now director and advisor to Rodan + Fields, answered questions from the audience and moderator Natalie Kim, MBA '17 and president of the USF Women in Business Club.  Bush told the story of her career path and how she was able to be, as she calls it, "retired-ish" after six short years at Rodan + Fields.
Bush is also co-author of the best-selling beauty and wellness book, "Write Your Skin a Prescription for Change," and is on the Board of Directors and Executive Committee of the Direct Selling Association as Vice Chairman. She attended Ohio State University for undergrad and went on to Temple University where she earned her MBA.
During the 70's she first thought she wanted to get her doctorate and become a physician. After starting out on a pre-med path, though, Bush realized she was destined for a different career. "I switched to studying medical technology thinking that ultimately I wanted to go into product development and product marketing and would start off by leveraging my medical technology career."  In order to build a meaningful resume, Bush started to do clinical trials for companies, research and publish.
She began early on by running trials for a company that specialized in diagnostic medicine. She developed a commercially available diagnostic test that hadn't previously been accessible. This was just the beginning of her career.
It made me realize that you can do things, even in a young, early development in your career. Nobody stopped me. What I have found in working with teams throughout the years is people stop themselves. –Bush
After working for Neutrogena where her VP of marketing goal was to achieve "#1 dermatologist recommended skincare brand" (which is their current claim), directing at Johnson & Johnson and serving as president for Nu Skin division, Bush finally ended up where she felt she was meant to be in 2007--Rodan + Fields. It was apparent Katie Rodan and Kathy Fields wanted Bush on their team after asking for her contributions during the early stages of their startup.
Her management skills helped make it possible for Rodan + Fields to launch in March of 2008 and reach $600 million in revenue in 2015, taking the title of #1 largest premium skincare brand and fourth overall. When it comes to leadership, Bush has her own approach that includes acting as the "custodian" when it comes to making sure the company's values don't go unseen.
My leadership style is my little brand of crazy. I'm very hands on. I think of myself as an enabler, moving out obstacles for people and empowering them to do what they can do. –Bush
A big part of what Bush is proud to have offered Rodan + Fields was doing a soul searching team exercise to find their leadership values and ensure each of their true colors showed--assurance, business savvy, innovation, transparency and collaboration "We'd go back and constantly look if we were meeting the expectations of all our constituencies on a regular basis," she said.
The story of Bush's remarkable career can provide a wealth of business wisdom for future women and men in management. Her leadership advice and work experience inspires others not to let anyone get in their way--and always make sure that one's values are true.
By: Brandi Licciardo