Equipped to Lead and Succeed
London Breed: 'Failure Should Never be an Option'
Image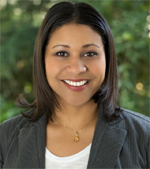 USF congratulates alumna London Breed who's recently been elected Supervisor of San Francisco's District 5. We caught up with Supervisor-elect Breed at her office at the African American Art and Culture Complex. True to her nature, she talks community, education, the San Francisco advantage, and how USF prepared her to take on the role of an ethical change leader.
The foundations for Breed's community mindedness were laid very early on during her childhood. Breed's formative years in District 5 shaped her "one-for-all, all-for-one" philosophy. She recalls that a major influence was growing up in public housing under the watchful eye of her grandmother.
Breed's belief structure received reinforcement when she pursued her Master of Public Administration. She credits the program and the University in strengthening her already-existing philosophy of giving back to the community, and in particular, the value of ethical leadership. She aims to have 'a good, solid relationship with the community, like glue that keeps things together'.
"USF teaches you to look deeper, not just from an intellectual standpoint, but into whether or not you are truly the kind of person that can be an effective leader. USF and the people I worked and studied with have supported me and continue to support me. It's prepared me on an emotional and spiritual level from an ethical leadership standpoint," she mentions.
As Executive Director, Breed gives us an example of her leadership as she evolved the African American Art and Culture Complex under her self-proclaimed artistic eye. If there's one message she wants to give to the city's youth, it's that they're not alone. Over 10 years, she grew the organization serving youth in the Western Addition by securing $2.5 million in capital improvement funding. She oversaw a $1.5 million renovation. "I love to do that kind of work and nothing gives me more pleasure than to see something transform in front of my eyes," she concludes.
San Francisco, to Breed, is one city that is in a position to impact global change. She sees USF as being one of the city's strongest instruments in influencing that change.  "We have amazing institutions, incredible companies, this beautiful city, and great talent. We are in a position to impact that change, and to be better ourselves, and change lives for the better. Failure should never be an option," she states emphatically.