Equipped to Lead and Succeed
Learning to Lead, Ropes Course Edition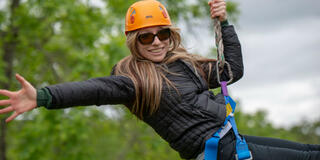 Alexandra Kennedy BS Business Administration, Management '18 shared her experiences in her Personal Branding and Career Development class, and specifically, how the semester ended—with an exhilarating team-building ropes course.
Alexandra Kennedy BS Business Administration'18 is a Management major who will be kicking off her final semester in the fall. Recently, Kennedy along with her Personal Branding and Career Development class went on a field trip to Heron Lake Challenge Ropes Course—in order to better understand themselves and others in high-pressure situations.
When asked how the ropes course experience will influence and inspire the rest of her academic and professional careers she said, "Immediately I know the answer to that," and began reflecting how before, she would walk into a new situation with less of an awareness towards others.
Now after having taken this class, I walk into situations and I feel in control. I feel like I have a command of human instinct… that's an asset for sure."
          Alexandra Kennedy  '18
         BS Business Administration, Management 
Kennedy said professor Matthew Monnot, the instructor of the class, for crafting an such an adventure of a field trip. "Professor Monnot is far from mundane. He is far from a boring lecture." This physical challenge, Kennedy explained, was relevant to challenges faced in the workforce as it was essentially an emotionally stressful team-based simulation. "The ropes course was another way to get to know ourselves and get to know other people," said Kennedy, explaining how it is critical to understand oneself in stressful situations, as well as understanding how others react to such challenges.
Kennedy explained that she was one of the first to complete the course and the first one to choose a more precarious one. "I was very calculating about it," she said. She admitted she did not want to be the first to go, but this was because she wanted to observe others. The entirety of the experience was exhilarating, Kennedy said, describing the field trip as a "total bonding experience," and "high-level emotional experience." She emphasized the importance of bonding quickly, whether every person gets along or not, in order to "accomplish the goal, and get through it together." Kennedy said, "I haven't done anything like this in any of my classes."
Besides completing the ropes course herself, Kennedy made it clear that the experience was also deeply significant because it gave her an opportunity to cheer on her classmates and comfort those that were scared. Because of this, she said she feels more capable and qualified to be a leader.
"As someone who wants to be a manager, I'm happy I learned this before I became a manager somewhere," she said, explaining how the experience provided her a newfound comprehension of human understanding and instinct.
By Lonny Wysard