Alumni
Hospitality Alumnus Becomes a Hotel Hero
School of Management alumnus Easton Mayordomo BSBA '16 was awarded the Rising Star award for his excellent work in hospitality.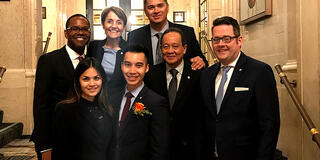 The 2018 Rising Star award was given to Hospitality Management alumnus Easton Mayordomo BS Business Administration '16. The award was presented to Mayordomo from the Hotel Council of San Francisco on April 18 at the 15th annual Hotel Hero Awards, where he was recognized as "an upcoming 'star' that has worked less than 5 years in the industry." In order to be considered for the award, Mayordomo had to be nominated by an executive committee member. Most hotels submit nominations and it all comes down to five finalists per category. From there, an independent panel selects a winner, explained Mayordomo.
Mayordomo currently works as the Revenue Manager at The St. Regis San Francisco. He said the award "represents an acknowledgment and 'thank you' of sorts for a lot of work that I wasn't initially expecting when I took the job. The support of my executive committee has been phenomenal and one of the main reasons I continue to succeed every day."
Mayordomo credits his achievements to the School of Management's Hospitality Management department.
My professors gave me so many opportunities to grow and network with many of the professionals and colleagues I work with today. I always tell students that it is so important to grow and foster genuine relationships. After all, hospitality is all about the care for people...as I continued to grow these relationships, the more organic opportunities came my way.
EASTON MAYORDOMO
bs business administration hospitality management '16
Mayordomo is excited to see what the future holds. Winning the Rising Star is not only a big accomplishment but will help him further his career. "My immediate next step is to take on a 'cluster' revenue manager role, where I will assist in overseeing the Luxury Hotels in Marriott/Starwood's SF market such as St. Regis, W Hotel, The Palace, and The Ritz Carlton," he said. "The Rising Star award has definitely assisted in getting my name further out there in the market and I look forward to continuing this journey in the hotel world."
By Grace Avila and Lonny Wysard