Equipped to Lead and Succeed
Financial Women of SF Providing More Than Just a Scholarship
Arriel Sherman, part-time MBA, '16 and Vicki Ye, full-time MBA, '16, both students at the University of San Francisco School of Management, were recently awarded scholarships from the Financial Women of San Francisco Association (FWSF) for their work and dedication in the financial field. These women were honored at the FWSF Luncheon, where they spoke about the impact of receiving this award.
The FWSF Scholarship Fund has been providing graduate and undergraduate scholarships to San Francisco Bay Area women pursuing careers in finance and financial services since 1985. Along with their scholarship funds, winners also receive mentorship from members of the organization and receive the opportunity to attend career development and networking events.
"It feels like the start of something big for me. In order to keep progressing with my career in finance, I have to keep thinking about what I can do set myself apart," Sherman said of winning the scholarship.
For Ye, the opportunities available were what motivated her to apply for the scholarship in the first place.
"The application is quite challenging. It includes your resume, an essay, recommendations and interviews," Ye said. "The process itself is rewarding because you can see what you have achieved up to that point and it encourages you to keep connections with professors and previous employers. It means the most to be recognized by these women and to work with a mentor in the financial field. I can apply what I learned over the course of the process to my future goals."
According to Carolyn Margiotti, FWSF Scholarship Team Lead for USF, Ye and Sherman were selected for the scholarship because they showed passion for FWSF, their future goals in finance and giving back to the community.
Ye and Sherman both overcame adversity early in their careers and came to USF to grow both personally and professionally.
Sherman credits the work she did with Making Waves, an education program, for making an impact on her future. "I always wanted to bring people together in some way because I feel like the people that support me are my village. I try to pay back their support with inspiration. You can achieve so much when [other people] believe in you."
For Sherman, this means developing a network for women to share their victories and defeats.
"The project I have in mind, called She Believes! [is] about making it okay to ask for help, to share failures, [and to develop] a network that helps you achieve at least four goals per year," she said.
Ye, who is from Singapore, sees her MBA impacting the world of finance in a positive way.
"Ultimately, I want to become a CFO who respects every human being and makes a positive impact," she said. "This scholarship opens the door into an organization that encourages this. There is a great deal to learn from the connections I will make, their mentorship and all their expertise."
While at USF, Ye worked closely with Professors Claudia Roehl and Nicholas Tay, whom she credits much of her success from at the university. She was also elected Vice President of the Graduate Student Association.
Similarly, Sherman is the Vice President of Challenge for Charity and has volunteered with organizations like SF Food Bank, Special Olympics and Women's Initiative for the Self-Employed. Sherman's grandmother also played a large role in her desire to help women and youth in the future.
"She helped the women in our community with their finances and other things when I was growing up," Sherman said. "It showed me there is a real need for women to support women in the finance world. Working with FWSF will be a chance for me to have a mentor in that space."
By Sage Curtis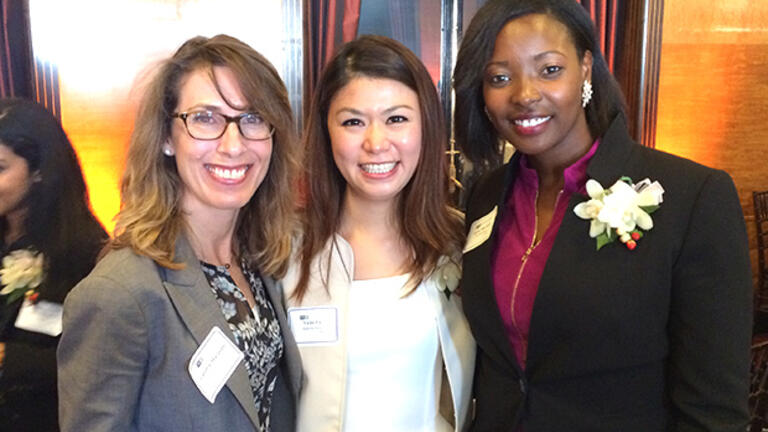 USF MBA Students awarded Financial Women of San Francisco Association Scholarship