Equipped to Lead and Succeed
Extraordinary Students of 2015 Highlighted at Dean's Honor Awards
Image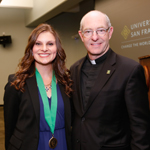 The University of San Francisco (USF) School of Management's most accomplished students were recognized at the Dean's Honor Awards Ceremony this May. 
"All the students here have accomplished so much over the course of their studies. Tonight is for you," Dean Elizabeth Davis said. "This is an opportunity to take a breath and be proud of all you have achieved. We are here to honor your successes, and to share that with your families, friends and cohort."
During the ceremony, six awards were given to students who had distinguished themselves academically and embody USF's values of scholarship and service. The Dean's Medal of Excellence went to Christa Green, Sandra Lupien and Jonathan Patrick Hellman, who best exemplified the values of USF in their academic accomplishments, extracurricular work and personal life.
The A.A. Berti Undergraduate Award was awarded to Camila Nichols for earning the highest record of scholarship.
The Dean's Service Award was given to Shae Otsuka, Haider Sayed and Mei Ying Yeo-Oxenham for demonstrating superior academic performance and outstanding service to university student life and to the School of Management.
The Dean's Student Life Award was given to Erin McCarrick for demonstrating commitment and outstanding service to the students and programs through extracurricular work and student involvement.
School of Management Valedictorian Christa Green, Kayleigh O'Keefe and Laura Duymovic were chosen as commencement speakers during their respective ceremonies.
Guest speaker Karl Schroeder, USF alumnus and Senior Vice President of Corporate Merchandising for Safeway and Albertsons, spoke to students about ethical leadership and building a meaningful career.
"I am more than honored to be back here," Schroeder said. "It's only been three years since I was a student here myself, and looking at you I am in awe. You are all light-years ahead of where I was at your age. You have so many opportunities in front of you."
Schroeder identified six virtues that will help graduates build meaningful and successful careers. "Humility, the pursuit of excellence, kindness, discipline, courage and wisdom," he said. "If you keep these six virtues in mind in all your professional endeavors, you will build good character and a stellar reputation and you will go far."
USF President Father Fitzgerald was present for the ceremony, and Schroeder's speech resonated with him.
Much of what Karl Schroeder said was spot on," Father Fitzgerald said. "I loved what he said about honesty and courage. It's very difficult to be honest with your boss if things aren't running smoothly, but it's so important. When my VP's are honest with me it makes my job so much easier, because if we have a challenge, it's not one person's job to fix that. Teams work best with trust and transparency."
Christa Green, who won three awards, Valedictorian, Commencement Speaker and the Dean's Medal of Excellence said she feels incredibly honored and proud to see the results of all her hard work. She is graduating from the Hospitality Management program and has accepted a position as hospitality and catering coordinator with the San Francisco Zoo.
"I can't wait to start in a few weeks," Green said. "The zoo is vibrant, different and isn't it cool that I get to work with both people and animals?"
Dean Davis said it was wonderful to see the students so excited as they celebrated with their families and friends.
 "This is an important opportunity for us to take stock and acknowledge the incredible academic accomplishments and personal achievements our students have amassed over the last few years. It is deeply important to do that in an intimate setting like this one; you can invite your family, we'll all celebrate together, and you'll know that they are truly proud of you, and so are we. That kind of personal touch is what USF is about."
Father Fitzgerald echoed Dean's sentiments, "There is an important difference between one, having a job, two, building a successful career and three, finding a vocation that is meaningful to you," Fitzgerald said. "Our students are going to find the second and third things. I have great confidence that they will go on to embody the ideals we highlighted tonight and effect lasting change in the world."