Equipped to Lead and Succeed
Changing the Future of Healthcare From Here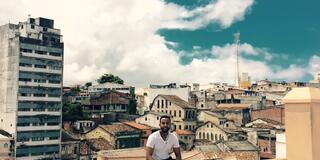 Adam Abate MPA, HSA '19 was recently awarded the prestigious Albert W. Dent Graduate Minority Student Scholarship. Abate shared his journey through the MPA, HSA program and how it inspired him to be a public servant.
Adam Abate '19 is a Master of Public Administration student with a concentration in Health Services Administration (MPA, HSA). He is a first generation Ethiopian-American and Bay Area native. Recently, he was awarded The Albert W. Dent Graduate Minority Student Scholarship—an award offered through the Foundation of the American College of Healthcare Executives (ACHE) in honor of its first African-American Fellow, Albert W. Dent. The American College of Healthcare Executives is well-known as a trailblazer in developing leaders in the realm of healthcare. "I'm honored to have been selected as a recipient of this award. Additionally, I look forward to being more involved with ACHE in the future," Abate said.
For the past five years, Abate has been working for a public service organization as a member of the finance team. He said that being associated with the organization is what inspired him to get his MPA degree. "I was motivated to seek the Health Services Administration concentration due to the gaps in healthcare services combined with the lack of affordability that has affected many of my family members," said Abate. "I've witnessed firsthand these imperative needs to care. Advocating for them will help improve the patient-centered care that has been lacking in these communities." Abate wants to be an advocate for communities that have been deprived of healthcare services. "As a future healthcare leader, I hope to strive for improvements in healthcare delivery, fight the social determinants of health within our underserved communities, and advocate for culturally relevant care," he said.
As for USF's MPA, HSA program, Abate emphasized the great commitment the university has to identifying challenges and issues within the United States' healthcare system. "I hope to be a part of the healthcare leaders who will initiate community engagement, provide resources, and fight against the unfair and avoidable differences in health status seen within and between our communities."
All of the classes that I've taken so far in the program have applied management structures, concepts, and research to many operational, policy, and resource issues in the public/health services sector.
Adam Abate '19
Master of Public Administration Health Services Administration
He explained they have also thoroughly studied evidence-based practices used for successful teamwork, organization, and evaluative public/health agencies. "I feel as though the MPA, HSA program does a great job of engaging students in self-assessment, as well as goal-setting for lifelong learning and professional growth," Abate said.
Abate's favorite class in the program has been Public Administration as a Field and Practice in Contemporary Society, taught by Professor Richard Callahan. "Professor Callahan's personal insights... [and] self-motivating teaching style encouraged me to begin thinking as a public servant, instilling the belief that I can make a change with the work I choose to do… I feel as though this class confirmed that I chose the right program."
In fact, Abate said the professors in the MPA program were the ones who truly inspired him to make a difference by serving the public.
All of the professors supplemented their class material with personal experiences, which I believe has provided the most value for both my personal and professional growth.
ADAM ABATE '19
MASTER OF PUBLIC ADMINISTRATION HEALTH SERVICES ADMINISTRATION
Callahan, who also wrote Abate's letter of recommendation to be honored with the award, spoke highly of his student's dedication. "Mr. Abate is an excellent graduate student, with a strong commitment to community service, coupled with excellent leadership abilities," said Callahan. "He is very focused on his graduate studies... to advance his demonstrated commitment to addressing health disparities in California, and globally." In the tradition of ACHE, Callahan explained, the scholarship award to Abate is an investment in a healthcare leader for the future.
By Lonny Wysard