Engaged Learning
Changing Tax Season from Here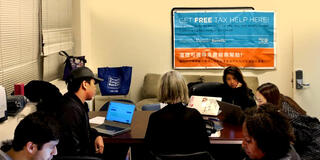 According to the IRS, it estimates it will receive 13.5 million requests for extensions of time to file taxes. That means 13.5 million people did not file their taxes on time. However, University of San Francisco has a Volunteer Income Tax Assistance (VITA) program right on campus, and three USF students are committed to helping others file their taxes smoothly, successfully, and on time.
VITA is designed to help people who make less than $54,000, who have disabilities, and language barriers. VITA's clients come from many different backgrounds. Some clients are retired, current students, or new graduates.
"There are many benefits to having your taxes done. A common misconception about taxes is the government taking money away from you, but people are unaware that they can get refunds or money back from the government too. A reason to come is to prevent yourself from scrambling last minute to get your taxes done," accounting major Christopher Tsui BS Business Administration '19 said.
No tax return is ever the same. We serve all kinds of people. Through VITA I'm able to understand more about the people who live in San Francisco." Christopher Tsui '19 BS Business Administration Accounting Major
Another volunteer and accounting major Yuxuan Lin BS Business Administration '18 said, "Our clients are usually very friendly and appreciate our work." She recalled a client who is a retired teacher that has come to USF for tax assistance for the past two years. "I did his tax return last year and afterward he gave me a big thanks and told me once that he enjoyed being around with young people," said Lin. "This made a great impression on me and is something I will never forget."
Lin said, "Helping out with VITA is a growing experience and can be challenging sometimes." She explained how VITA is a learning experience that affects everyone involved. It not only benefits the clients, but those who volunteer as well. "You get more knowledgeable about what it takes to file your own taxes, apply what you've learned from your classes, and most importantly, get a big thanks from the clients. It is such a satisfying feeling when a complex return gets accepted by the IRS, and even more when the clients get a refund. It really brings you closer to the community."
By Grace Avila